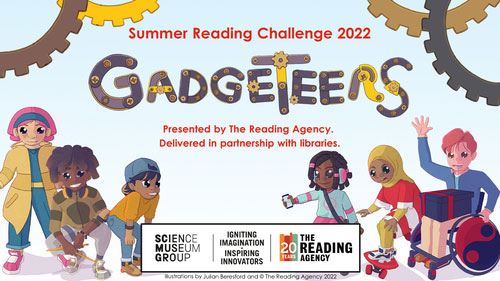 ---
---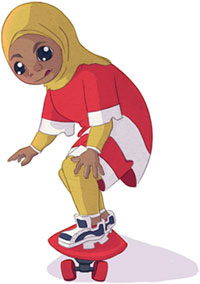 Gadgeteers starts on Central Bedfordshire Libraries on Friday 22nd July and finishes on Saturday 10th September 2022. It is free and for everyone!

How does it work?
Sign up for a Gadgeteers collectors folder and stamp card - then choose your books and take them home to read. You can borrow any library books or read our e-books or listen to our audiobooks.
When you return your books to the library or tell staff about the ebooks/audiobooks, you will get stamps on your stamp card and stickers on your collectors folder. There are 6 sticker sheets to collect, one for each of the first six books you read.

You will also be able to claim prizes:
Read two books and you will get a Gadgeteers bookmark
Read four books you will receive a Gadgeteers pencil
Read six books and you will be awarded your Gadgeteers Certificate and medal!!
Plus children aged 4-16 years, your completed stamp card will be entered into a lucky dip at your local library to win a tablet computer.
Don't stop there though!! Collect another stamp card and keep reading!

There will be craft activity packs available from your local library and events - keep checking your library for details.
Ummm - I'm not sure what to read...
No problem! We have lots of ideas and suggestions!
If you are looking for inspiration just follow the links below for recommended reads - don't forget reading magazines and comics counts too!
Plus do not forget about our online services; reading e-books, audiobooks and magazines will get a stamp on your stamp card too!
Libby - borrow and download e-books, audiobooks and magazines
BorrowBox - borrow and download audioboks
PressReader - read newspapers and magazines online

Gadgeteers illustrations by Julian Beresford and © The Reading Agency 2022
---
Page last updated: 8th July 2022