Bedford Borough Mobile Library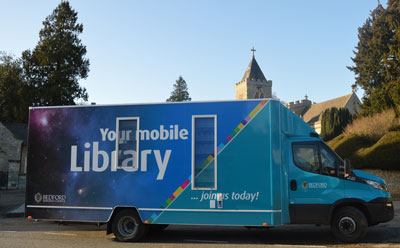 Bedford Borough has a mobile library and a Library Link vehicle, which visits those people who cannot come to a library.
News Alert - New Routes Announced
Following a consultation earlier this year which saw over 80% of respondents agreeing with the proposals, changes are being introduced to the Mobile Library and Library Link service.
These changes will see the timetable reorganised in response to the consultation results by targeting stops where they are most needed in the community, and every village and care home that currently receives the service will continue to. Residents will also benefit from new Mobile Library and Library Link vehicles, bringing an improved and more cost efficient service.
The Mobile Library service takes our fantastic libraries on the road visiting communities across the Borough, while the Library Link service serves residents who are unable to reach their local library making regular visits to individual housebound users, residential homes, and sheltered housing scheme.
The new routes will be in place from Monday 2nd October. In the weeks leading up to this, customers will be given information about any changes which affect them and the timetables will be published on the Borough website.
Click on the links below to find out more about the mobile library and Library Link service:
The mobile library carries a variety of stock, takes reservations and joins new members.
---
Page last updated: Page last updated: 17th August 2017