Bedfordshire Hostels
Sandy
Location:
Hasells Hall, Everton Road, Sandy.
OS Ref: TL18925000
Description:
Eighteenth century mansion. Variously spelled Hazells or Hasells ("Hasells" pronounced as in hazel nuts), now Hazells Hall (multiple-occupancy accommodation, following restoration in 1981). First requisitioned in May 1942 from the Pym family and used during the Second World War as a hostel for RAF pilots using nearby Tempsford Aerodrome. After WLA use, it became a hospital annexe to Bromham Hospital.
Opened:
May 1948
Closed:
December 1949

Hasells Hall, Sandy
More information about this hostel
The Land Girl magazine in April 1948 reported "We shall shortly be opening a new hostel near Sandy. Hasells Hall is a lovely old house set in a park. A working party of land girls are busy getting the kitchen garden ready and hope to be happily settled in a few weeks' time".
Early "Harvest Home" celebration (before harvest has been gathered in) reported in Bedfordshire Times on Sat 6 August 1949 for a gathering and sports day. 400 Land Girls attended from other hostels. Sandy land girls performed as "Sandy Nigger Minstrels" as part of the entertainment.
Mrs B. Stone was the Warden in 1949. A Mrs Wilson had also been the warden there.
Post war land girls at Hasells Hall
Some of the Aspley Guise land girls transferred to Sandy when their hostel, The Holt, closed in December 1948 but they didn't like it at Hasells Hall.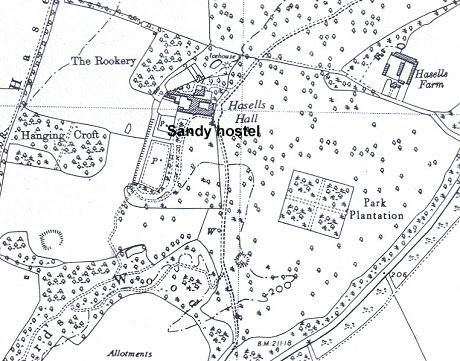 Location of Sandy hostel
OS 6" map 1950 Bedfordshire sheet XIII SW
---
Sandy Land Girls
---
Stuart Antrobus Historian/Author
---
Page last updated: 17th November 2014