Dunstable
Signalling Station
---
by Omer Roucoux
Previous Page | Page 2 | Next Page
In 1794, the news of the famous telegraph inaugurated by Claude Chappe in France arrived in England; details of it had been found on a French prisoner of war and discussions were started to adopt such a system of communication. War with revolutionary France pointed to the need for rapid communication between London and the naval stations. However in 1795 a mathematical don of Cambridge called Gamble experimented with a five-shutter system. It was not as elegant as Chappe's moving arm telegraph but would provide an instrument that was robust and serviceable enough for such a function. In August 1795, Lord George Murray (1761-1803), (later Bishop of St David's) presented to the Admiralty a rival design which won their approval. Murray's design had six shutters, all of the same shape, arranged two by two vertically. Each shutter was three feet square (sometimes the corners were cut making them octagonal, or even circular) and separated sideways by a space half their own width, so as to make the signal easier to read.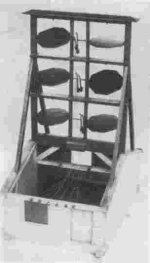 Murray's model of his shutter telegraph in the National Maritime Museum - Greenwich. The shutters are closed by pulling 6 knobs, they open by the action of counterpoise.
A system of ropes or chains could manoeuvre the shutters in either vertical position, making them visible, or horizontal, making them invisible from afar. The operation had been compared to bell-ringing, and the series of "pulls" were called "courses" as in campanology.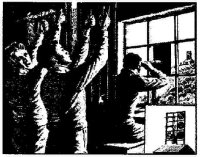 "Working the ropes". Two men handle the shutters and another, using a telescope, reads the message from the next station, shown here much closer that it would have been.
The number of changes, 63 possible combinations, was probably the deciding factor for the Admiralty, it allowed 24 letters of the alphabet to be coded easily (J and U were missing, replaced by I and V), distributed into four "courses" of six letters each. Using two positions for "not at work" and "ready to receive", this left 37 positions for coded words or full sentences. These were chosen among the most used in the messages, for examp1e "Word ended", "French", "Dutch", "Frigate", "Convoy", "Fleet", etc.
A page with code detail is shown below entitled 'A View of the TELEGRAPH erected on the Admiralty Office, Charing Cross, in February 1796'.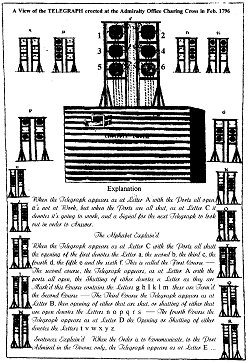 "The alphabet explained" from a page with code details published by the Admiralty.
Click to see enlargement
---
Page last updated: 23rd January 2014