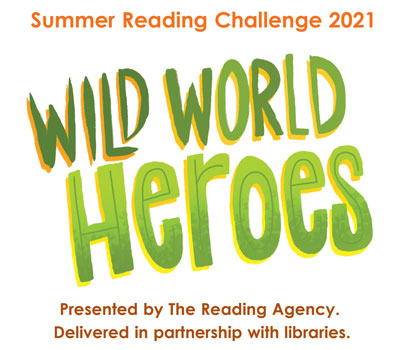 ---
---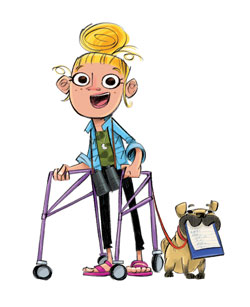 Wild World Heroes Summer Reading Challenge started on Saturday 10th July and finishes on Saturday 11th September 2021
This year the Summer Reading Challenge takes place in Wilderville, where our young heroes live. Wilderville is a pretty cool place but our heroes have been noticing some problems. Helped by their trusted animal companions, they're ready to take action to save the natural world. Are you ready to be a Wild World Hero too?
Join Wild World Heroes and pick up your Wild World Heroes Summer Reading Challenge Pack. Inside the pack you will find everything you need to take part in this year's Summer Reading Challenge: the Wild World Heroes poster, three sticker sets and three bookmarks. Receive a sticker set for each library book you read – there are 6 stickers to collect.
When you have read your books tick them off on the bookmark and show it to library staff to collect your reward.
Read 6 library books to get a Wild World Heroes Certificate
Read 12 library books to receive a Wild World Heroes Pencil
Read 18 library books to achieve the Wild World Heroes Medal

Discover the wonder of the Summer Reading Challenge with Scott Primary School (Youtube link)
How do I sign up?
Use your library card to sign up for Wild World Heroes by visiting your local library or using the online sign up form to request a Wild World Heroes pack and show your notification e-mail to collect your Wild World Heroes Pack.
You can read any kind of library book- picture books, story books, joke books, poetry books, non-fiction books or audio books. Look out for the book bundles which are currently available in our libraries.
If your child knows what books they'd like to read, they can request them for free using their library card and PIN on the online catalogue, Arena, or using the Bedford Borough Libraries app or staff can help them.
Have fun and enjoy the Wild World Heroes Summer Reading Challenge!
Ummm - I'm not sure what to read...
No problem! We have lots of ideas and suggestions!
If you are looking for inspiration just follow the links below for recommended reads - don't forget reading magazines and comics counts too!
Plus do not forget about our online services:
Libby - borrow and download e-books, audiobooks and magazines
BorrowBox - borrow and download audioboks
PressReader - read newspapers and magazines online

Keep up to date with the latest Covid arrangements in your local library here
Wild World Heroes illustrations © Heath Mackenzie
---
Page last updated: 19th July 2021