Unveiling the Women's Land Army Tribute Sculpture
---
The Women's Land Army Tribute – an impressive bronze sculpture of a Second World War Land Girl and a Lumber Jill – was unveiled on Tuesday 21 October 2014 at the National Memorial Arboretum in Staffordshire.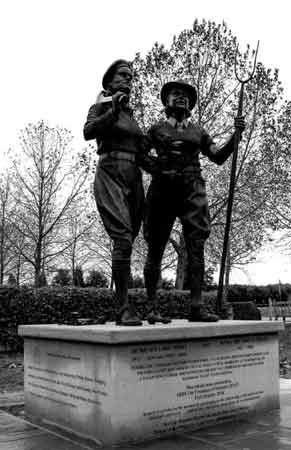 Women's Land Army memorial sculpture by Denise Dutton. Photo: Cherish Watton
This permanent memorial to the over 240,000 young women who took the place of men on the land in two world wars and just after is the work of sculptor Denise Dutton, following a four-year fundraising campaign by Staffordshire Women's Food and Farming Union. Stuart Antrobus acted as an honorary historical advisor.
Sophie, the Countess of Wessex was the guest of honour at the dedication ceremony, together almost 400 veterans of the Women's Land Army and Women's Timber Corps from all over the country, and over two thousand other members of the public.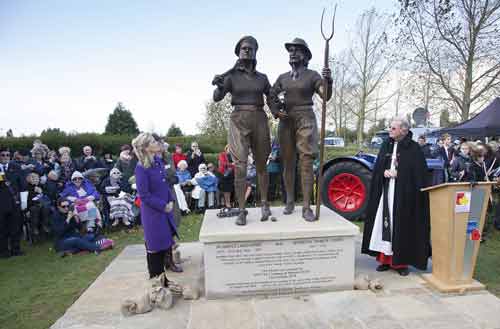 Sophie, Countess of Wessex unveils the sculpture. Photo: Ruth Downing Rural Pictures
Veterans were afterwards treated to a Reception where they reminisced about their experiences doing hard physical work on the land and in the forests, buoyed up by an awareness that they were helping to feed the nation or providing vital timber for the war effort. Despite the difficulties of the war years, most of the women looked back with fond memories on the friendships they made and the fun they had.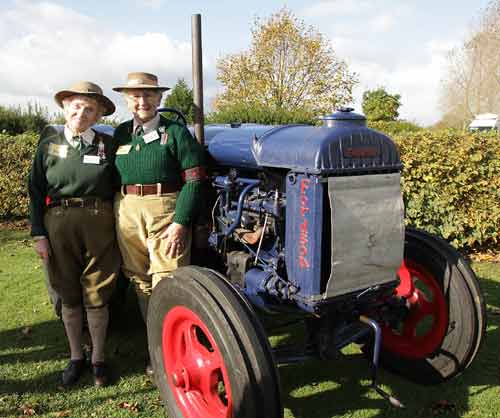 Two veteran Land Girls with a 1940s tractor. Photo: Ruth Downing Rural Pictures
During the First World War around 23,000 served in the Women's Land Army [WLA] between early 1917 and the end of 1919. Twenty years later the WLA was re-formed and during and after the Second World War, around 203,000 young women served as Land Girls between June 1939 and November 1950. A further 6,000 Lumber Jills of the Women's Timber Corp (WTC) worked as foresters between 1942 and 1946 in England Wales, with a further 8,500 in the WLA/WTC in Scotland.
At its peak in England and Wales in 1942-43 there were over 80,000 Land Girls at work on farms and in market gardens at any one time, with recruits serving varying periods of service from less than a year to, in a few cases, up to ten years. Most served for two or three years during the period of the war and many left when the war ended in 1945.
For more on the WLA Tribute sculpture, its unveiling and the Reception for former Land Girls:
http://www.womenslandarmy.co.uk/womens-land-army-tribute-memorial-unveiling-today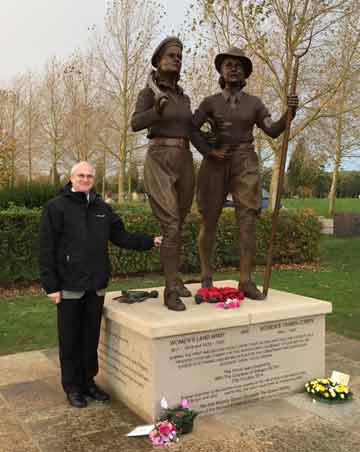 Stuart Antrobus at the WLA memorial. Photo: Cherish Watton
---
Stuart Antrobus Historian/Author
---
Page last updated: 26th June 2020