Land Girl Poetry
Womens Land Army by Mary Cutler nee Hickey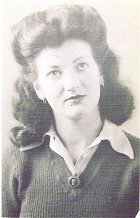 I stood proudly in my uniform
My family shrieked with glee
The breeches didnt fit too well
The hat was hardly me.
Yet the pride I felt
As I stepped on the train
Was too good to experience ever again.
We ploughed the fields
Milked the cows
Held our noses, scrubbed the sows
Worked our butts from dawn til dusk
Often pinched by farmers lust.
Summer time was doubled
To get the harvest home.
Brussells picking, threshing machines
Fingers numb to the bone.
We didnt mind, we were going to win
Prisoners of war were coming in
Young editions of Hitler
So we thought at the time.
Looking back, they were scared, just kids
Dreaming of mum and the Rhine.
Mary Mickie Hickey served in the WLA in Bedfordshire from February 1943 to July 1947, working for the War Ag, based variously at hostels at Whipsnade, Kensworth, then Leighton Buzzard. This poem was chosen to be part of a BBC Radio 2 anthology of poetry and songs written by non-combatants during the Second World War and broadcast at 9.15pm on Saturday 10 November 2007.
---
Stuart Antrobus Historian/Author
---
Page last updated: 28th February 2014