Bedfordshire Hostels
Toddington (Training Farm)
Location:
Toddington Park Womens Land Army Hostel & Training Centre, Park House, Toddington Park.
OS Ref: TL00312985
Description:
Accommodated 24 (?) for 4 weeks training, as well as a resident gang of land girls.
Opened:
November 1942
Closed:
c. December 1949

Park House, the WLA hostel in the grounds of Toddington Park. Courtesy of Richard Hart
More information about this hostel
Opened around the time of Bolnhurst Hostel and Kensworth House (second phase of "War Ag" hostels in Bedfordshire, after Milton Ernest in February 1942).
Irene Hulatt described the accommodation as "stark and cold, bedrooms with eight bunk beds to a room, very stark lounge and dining room, huge kitchen and a warden who might have been trained in Colditz...Plain but good food was served."
By December 1943 it had qualified for the "War Ag" hostel garden cup competition.
In August 1944 it was being described in The Land Girl magazine as the newest training centre, expecting a new batch of girls from Durham (previous 4-week induction training in Bedfordshire done at Luton Hoo).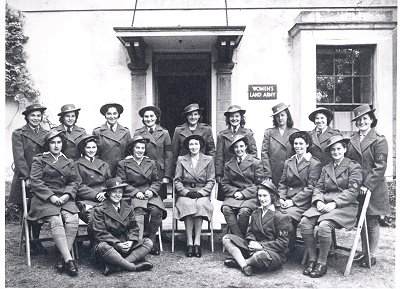 Toddington Park land girls, 1943
Back Row: Irene Mason (4th from right)
Middle Row: Ethel Eaton (2nd from right), Edith Catchlove (3rd from right), Doris Lane (2nd from left)
The same month it was congratulated on the "special commendation" it had received for an excellent potato harvest.
At the 14 February 1946 WLA Grand Parade before Princess Elizabeth in Bedford, Jean White led the Toddington Park contingent.
The hostel warden at that time was named (Mrs?) Bankes.
In the "Harvest Home" event for Bedfordshire land girls at Hasells Hall, Sandy, Miss A. Reynolds of Toddington Hostel came 1st in the obstacle race, August 1949.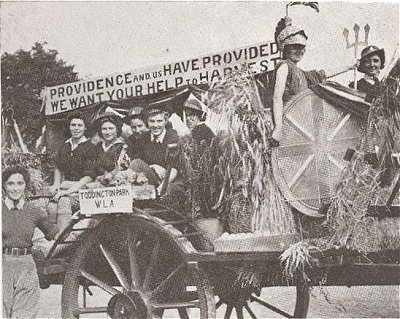 Farm Sunday procession with Toddington land girls
February 14-16 1946 Rally and Exhibition Souvenir Programme, p.17
Doris Lane is 3rd from the left (above Toddington Park WLA sign). She stayed on to do milking after the war.
Recruiting slogan: "Providence and us have provided. We want your help to harvest"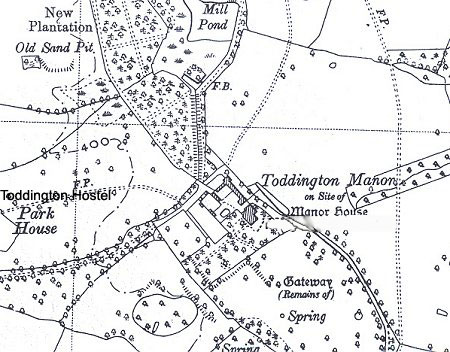 Location of Toddington hostel
OS 6" map 1950 Bedfordshire sheet XXV SW
---
More pictures of Toddington land girls
---
Stuart Antrobus Historian/Author
---
Page last updated: 24th April 2014