Bedfordshire Hostels
Sharnbrook House
Location:
High Street, Sharnbrook.
OS Ref: SP99485972
Description:
Large eighteenth century town house.
Opened:
c. Early 1944 (?)
Closed:
c. December 1949

Sharnbrook House Hostel
More information about this hostel
There were six bunk beds in most of the bedrooms. Land girls were not allowed to use the grand staircase in the house but used the back stairs, previously used by the servants.
Land girls put on a show in the village hall in June 1944 to raise money for the 'Salute the Soldier' week.
Garden party, sports day and dance held at Sharnbrook Hostel, Sat 28th July, 1945. Three hundred land girls and 200 soldiers from Grange Camp attended this event, arranged by the Women's Land Army and the War Agricultural Executive Committee for hostel Land Girls in the county. Afternoon inter-hostel competitions, including a tug of war. Evening entertainment by ENSA (Entertainments National Service Association) and cabaret by land girls.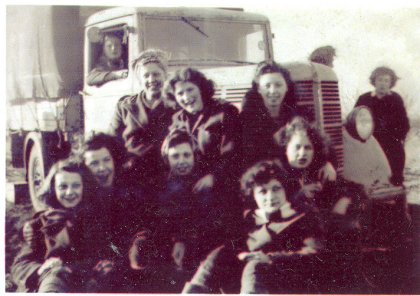 Sharnbrook land girls
At 14 February1946 WLA Grand Parade in Bedford, the Sharnbrook contingent was led by Vera Goldsmith. The hostel Warden at that time was a (Mrs.?) Hicks.
Wardens included Mrs Hicks, Mrs Porter, Mrs Oliver and Mrs Clarke.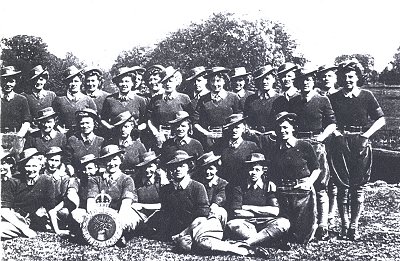 Sharnbrook House land girls Group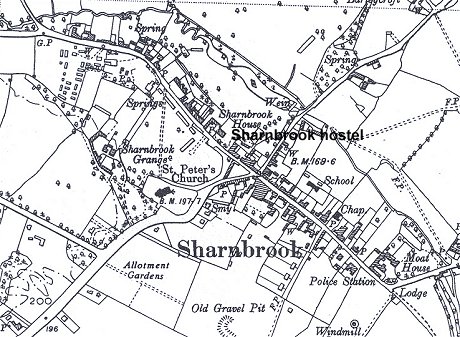 Location of Sharnbrook hostel
OS 6" map 1951 Bedfordshire sheet VII NW
---
More Pictures of Sharnbrook Land Girls
---
Stuart Antrobus Historian/Author
---
Page last updated: 28th February 2014