Bedfordshire Hostels
Ravensden (Training Farm)
Location:
Ravensden House (five miles NE of Bedford, between B660 road and Thurleigh).
OS Ref: TL06025534
Description:
Accommodating 16-30 land girls for 4-week induction training courses only (2 groups on a fortnightly rota: field & dairy work), prior to sending to farms or War Ag hostels. Post-war, Ravensden was the main training centre for Bedfordshire Womens Land Army.
Opened:
May 1944
Closed:
By December 1949

Ravensden Training Farm - rear view
More information about this hostel
Dairy training (two weeks with each intake of land girls) done on farm attached to Ravendsden House. Maureen Daley was one of the dairy trainers; Betty Davies assisted. Both hand and machine milking skills were taught. Josie Walton was also a dairy trainer there, at one time.
Jack Steward was employed by the "War Ag" (Bedfordshire War Agricultural Executive Committee) to oversee the Ravensden Farm operation. The "War Ag" employed roughly half of the Bedfordshire land girls. The rest were employed directly by private farmers.
Miss Bremner (formerly of Milton Ernest Hostel) was the Warden there and Carrie (a land girl) did the cooking. The three trainers and the Warden each had their own rooms in the hostel. The trainee volunteers shared dormitories for their 4-week stay.
There were local dances at Dunton and Wrestlingworth and American forces at Bassingbourne and they also went to the "pictures" in Biggleswade - the Regal and the Empire cinemas - and to Bedford on Thursday evenings.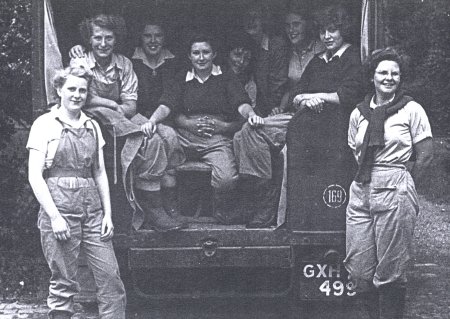 Margaret Perry (far right) with trainee land girls setting off for local fields to learn arable crop skills.
Each year, they would go to the county agricultural show held on Fenlake Meadows, Bedford.
At the weekends, Margaret Perry, one of the trainers, would go home to her parents in Luton, except when she was relief milker, doing hand milking. She was trainer there for 18 months from 1947 to 1949. She enjoyed coming across a new lot of land girls every fortnight. She left the Women's Land Army when got married to a farmworker she had met on the first farm she had worked on as a land girl.
Margaret Perry taught arable (field) work (2 week courses) on local farms in the northern areas of Bedfordshire from Sharnbrook, Riseley, Melchbourne, Thurleigh to Poddington and Tempsford aerodromes.
They had Italian prisoners of war (POWs) working on local farms. They were a bit of a problem - "they eyed the girls rather" and some girls were very willing. "What they got up to was none of my business." The Italians "weren't workers". The German POWs worked in gangs and worked harder.
In October 1944 Mrs Rogers, the then Warden, was praised for her "accomplished playing" at the Bedford WLA Club musical afternoon. The club was the Saturday afternoon social centre for the land girls who worked and lived on private farms (as opposed to land girls who worked for the War Ag.).
Carrie Law led the Ravensden contingent on the 14th February 1946 parade of land girls in Bedford, before Princess Elizabeth.

Location of Ravensden training hostel
OS 6" map Bedfordshire sheet XI NE (with additions in 1938)
---
More Pictures of Ravensden Land Girls
---
Stuart Antrobus Historian/Author
---
Page last updated: 14th August 2014