Bedfordshire Hostels
Leighton Buzzard
Location:
Ministry of Works hutments, Hockliffe Road.
OS SP93432543
Description:
Accommodated 40 land girls.
Opened:
4 June 1942
Closed:
c. September 1950

Leighton Buzzard hostel group, with Mrs Whipp, Warden, sitting to the right of the hostel cook (in white)
More information about this hostel
Second "War Ag" WLA hostel in the county (after February 1942 Milton Ernest). It had formerly accommodated Italian prisoners of war.
First Warden: Mrs Whipp of the YWCA. By 1946, the names Mearing, Cheeseman and Gorrie (?) are listed (the latter may have been Assistant Warden). Mrs Priest was an Assistant Warden. Mrs Cornish was the cook.
39 girls from Bedfordshire and one from Flintshire formed the first contingent at the hostel. Stella Limon was one of these first land girls at Leighton Buzzard. You can read her recollections in Bedfordshire Land Girl Memoir.
By 1945 it is in the news, within the Women's Land Army, for having hosted a "War Ag" Brains Trust evening (modelled on the popular wartime radio panel game programme), having held a party for children from the "Waifs and Strays Home" and won the cup for the "best garden" among the county's hostels.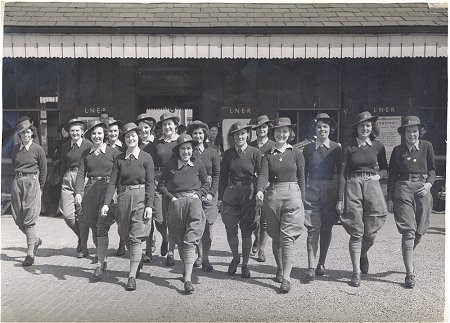 First intake of land girls heading for Leighton Buzzard Hostel - 4th May 1942.
Joyce How is 2nd from left and Ellen May Godfrey is 3rd from right.
Photo courtesy of Luton News
The Bedfordshire Times of 3 August 1945 recorded that the hostel had been awarded the prize for the best record of working hours, at Sharnbrook Fete, July 1945.
It held a fourth birthday celebration party in May 1946.
In June 1947 the post-war Land Army News announced that the hostel had won second prize in the "Brighter Hostels" competition.
Bertha Bullock, Forewoman (previously at Potton Hostel), led the Leighton Buzzard contingent at the 14th February 1946 parade in Bedford before Princess Elizabeth.
They were allowed two late-night passes per week. Some attended the Oriel Cinema in Leighton Buzzard. Others ventured to the Half-Moon Skating Rink in Dunstable.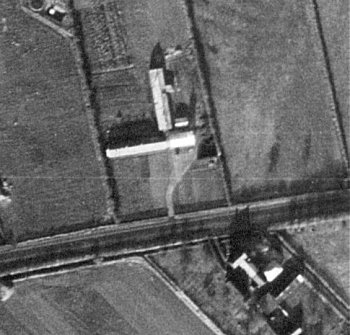 Leighton Buzzard hostel, on Hockliffe Road
They worked on various farms with both German and Italian prisoners of war (never together). The Italians came from Milton Bryan Camp.
The bike shed was the place where they kissed their boyfriends goodnight. Each couple had a place there.
Occasional socials were held at the hostel led by local musician, Fred Groom.
Mrs Winston Churchill (the Prime Minister's wife) visited the hostel, one lunchtime, to present patchwork quilts to the Land Girls.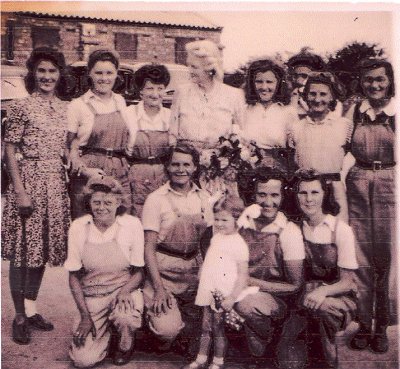 Lady Churchill visits Leighton Buzzard land girls
Liz Day, who toured the county's hostels for the WLA, encouraging the cultivation of vegetables in the hostel gardens said "They grew wonderful onions".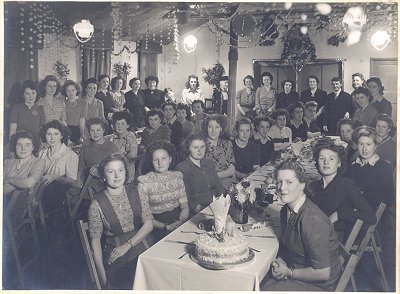 Christmas Party, Leighton Buzzard hostel, 1947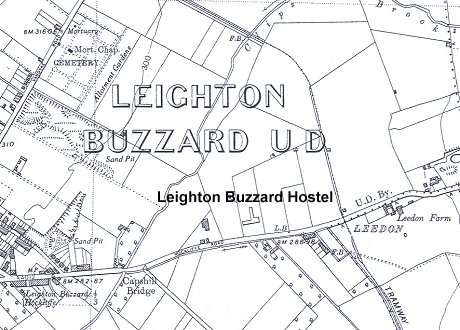 Location of Leighton Buzzard hostel
OS 6" map 1950 Bedfordshire sheet XXVIII SE
---
More Pictures of Leighton Buzzard Land Girls
---
Stuart Antrobus Historian/Author
---
Page last updated: 28th February 2014