Bedfordshire Hostels
Bolnhurst
Location:
Ministry of Works hutment, Kimbolton Road, Bolnhurst.
OS Ref: TL08675841
Description:
Single storey, T-shaped layout of huts, providing dormitory, ablutions and dining blocks, joined by a central entrance hall. No electricity. Paraffin lamps. Wooden shutters to windows. Coke stoves. Accommodated up to 40 land girls.
Opened:
19 October 1942
Closed:
April 1949

The dormitory block and ablutions block
More information about this hostel
Opened at about the same time as Kensworth House Hostel and Toddington Park Training Hostel. Just off the main road, down a short road with a small thatched cottage on the corner. 37 new land girls and 3 "old hands" in November 1942. This was the third phase of hostels to open after the first at Milton Ernest in February 1942 and the second at Leighton Buzzard in May 1942.
YWCA Wardens there (at various times) included Mrs. E. McGinn, Mrs Bagent, Mrs. Lancaster and Mrs. Empsell. Assistant Warden: Miss Sutton.
Vera Goldsmith was one of a number of Forewomen there over the years.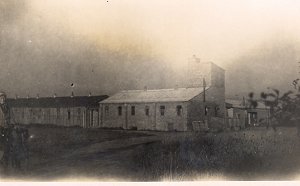 Bolnhurst Hostel huts
At first, most of the land girls there were from London and Bedfordshire, including Luton. A year later, as some girls moved out, others came from Yorkshire and Lancashire. Most started "green", knowing nothing about farming, but learned on the job. A few attended 4-week induction courses at a training farm, such as the home farm at Luton Hoo Estate.
Cook woke the girls each morning by walking the length of the dormitory shaking a handbell, then went over to each girl, calling them softly by name.
The girls were driven out each day by two trucks and left in small working groups at the farms which needed them. They travelled as far as Potton, Great Barford, Stotfold, Sandy, Willington, Pertenhall, Staughton, and Old Warden (journeys of up to 20/30 minutes). They also worked in market gardens, as well as on farms.
A few girls were billeted at the hostel but were employed permanently on local private farms. Most of the girls worked for the War Ag, which had set up the hostels and provided farmers who needed them with labourers, according to seasonal needs.
A few girls, who were "local" Bedfordshire girls were able to go home at the weekends, from mid-day on Saturday to 9pm on Sundays. Most girls lived too far away to go home more than twice a year, when they had free travel passes.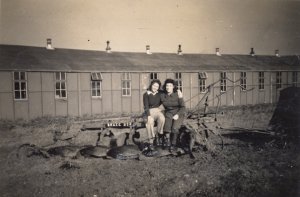 (L to r) Peggy Shaw and Doris Harris
Sunday 17 February, 1944
A New Year dance and party was held on 31 December 1942 / 1 January 1943
A hostel "birthday party" was held in November each year. There were still seven of the original land girls there at the 3rd birthday party in Nov 1945. A great sense of pride and belonging: "Im a Bolnhurst girl".
American service men were based at nearby Thurleigh Airfield, some 3-4 miles away, and got to know the land girls. Some dated them and there were eventually 4 GI brides from the hostel. Canadian forces were also met up with in Bedford.
British forces also got a look in, with the Pioneer Corp a few miles away at Colmworth and men from R.A.F. stations. The land girls got one late night pass a week to visit Bedford, when they could wear their own civilian clothes, if they wished.
Bolnhurst land girls used to frequent "The Plough" pub (not the new one there now) and sometimes "The Wheatsheaf".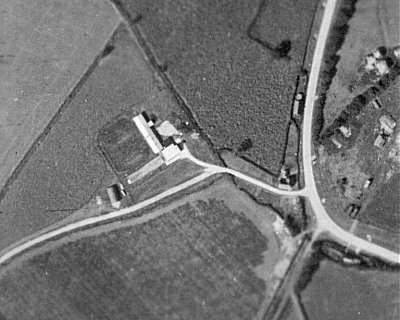 Aerial view of Bolnhurst hostel, just off the Kimbolton Road
Never got newspapers at Bolnhurst and were quite out of touch with what was going on in the war.
Occasional ENSA (Entertainment National Services Association) concerts by visiting professional entertainers and CEMA (Council for the Encouragement of Music and the Arts) concerts of light classical music.
Bedding was spartan, with only thin palliasses on a wooden bunk but, later in the war, the Canadian Womens Institutes sent some colourful patchwork counterpanes to help keep the land girls warm at night.
At the Bedfordshire Women's Land Army Concert at the Corn Exchange, Bedford, Friday 15 February 1946, some land girl singers from Bolnhurst Hostel sang "Negro Spirituals", as part of a wide-ranging entertainment to raise funds for the Womens Land Army Benevolent Fund.
When it closed in April 1949, Miss D. Carlyle had been there since the hostel opened in November 1942, some 6 years.
A Grand Farewell Party was held on 26 March 1949.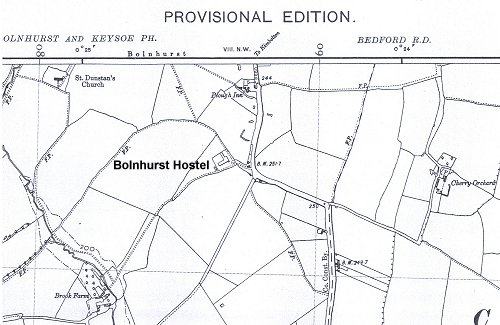 Location of Bolnhurst hostel, north of Bedford
OS 6" map 1952 Bedfordshire sheet VIII SW
---
Oral Reminiscences of Bolnhurst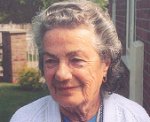 Listen to the reminiscences of Ethel Wilding (nee Sweenie's) life in the Bolnhurst hostel (42.3 MB).
Extract from interview with Stuart Antrobus. The full interview is lodged with the sound archive of the Imperial War Museum: Ethel Wildey (24663).
---
More Pictures of Bolnhurst Land Girls
| | | |
| --- | --- | --- |
| | | |
| | | |
| | | |
| | | |
| | | |
---
Stuart Antrobus Historian/Author
---
Page last updated: 28th February 2014