Bedfordshire Hostels
Aspley Guise
Location:
The Holt, The Square, Aspley Guise.
OS Ref: SP94233590
Description:
An eighteenth century manor house (now the Moore Place Hotel), previously used during the Second World War by the Government Code and Cypher School based at Bletchley Park. Used by the Bedfordshire War Agricultural Committee, from 1946 to house up to 40 land girls who worked on local farms.
Opened:
November 1946
Closed:
c. December 1948

The Holt, the Aspley Guise hostel.
More information about this hostel
Boyfriends were only allowed inside the hostel for invited parties. Normally they had to wait outside for their girlfriends. A large cedar tree by the drive in front of the house enabled the land girls to take turns to kiss their boyfriends goodnight before the 10pm deadline for being in the hostel.
They went, on Thursday evenings and at the weekend, to Bedford for dances. Joan Ison nee Taylor remembered attending a fancy dress dance as "The Ghost of Aspley Guise".
Land girls were not officially allowed to give lifts to men in their War Ag trucks, but they got round it by giving their boyfriends headscarves to wear, when being given lifts to a dance, so that they looked like girls in the back of the truck.
The Anchor pub, across the square from the hostel in Aspley Guise was very convenient for the land girls. There were also socials and dances in the Parish Hall. Local girls accused the land girls of "stealing" the local boys.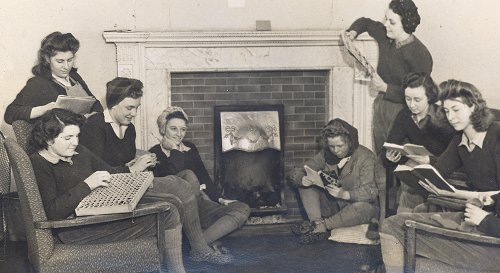 Recreation room in Aspley Guise Hostel
Rosa McEver was a member of the kitchen staff and not a land girl. She was from Ireland and married Bill Kirkup. One of the many pranks and japes played by the Land Girls on one-another at The Holt was that of "ghost-catching". Several of the girls had woken up in the night and sensed some sort of presence in the room with them. They set up a bucket of water over the door to their room. Sure enough, the "ghost" - who was Rose, playing a trick - was soaked and her trick revealed. (The above information is taken, with permission, from: Ted Enever "Cockney Kid & Countrymen', Book Castle, Dunstable 2001, pp 100 - 102)
YWCA wardens (at various times): Mr and Mrs Page; Miss Fuller (left August 1948) and Assistant Warden Miss Allan.
Farewell party for Miss Fuller, Warden. Her gift from the girls was an electric clock and a butter dish (Land Army News, August 1948, p.4).
Rear view of Aspley Guise Hostel
---
More Pictures of Aspley Guise Land Girls and Locality
---
Stuart Antrobus Historian/Author
---
Page last updated: 6th May 2015