Other Services in Bedford Borough Libraries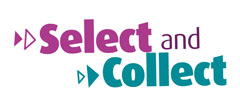 We are delighted to announce the launch of Select and Collect.
Libraries are not open yet but Select and Collect gives you the chance to read library books again and collect them from Bedford Central Library and Kempston Library.
The libraries are not open to the public yet, details of what is happening with our other services are below:
---
---
When will Rhymetime, Wiggles and Jiggles, and other activities for babies and children start?
We're keen to re-start our programme of activities as soon as we can. We're monitoring the situation with Covid-19 and will only re-start these activities when it's absolutely safe to do so.
---
Are there any craft activities we can do at home instead?
Yes! We've been sharing videos of different crafts which can all be done with household materials! You can find these on the Summer Reading Challenge page.
We're also running an online Lego club!
---
Can I come and finish the puzzle I was doing or read the newspaper like I used to?
Sorry, but you won't be able to do any puzzles or read newspapers and magazines in the library for now. This will be reviewed in the future. We do offer digital newspapers and magazines to library members. Find out more on the Virtual Library.
---
We can't host any activities in library at the moment so Knit and Natter won't be running for now. We will review this in the future and reinstate it when it's safe to do so.
---
Yes! It's running online but packs are also available through the Select and Collect service.
Visit our Summer Reading Challenge page to find out more.
---
No, these are not currently available but they will be in another phase of re-opening, with restrictions. Check the Virtual Library or our Facebook page for updates.
---
No, this service is not currently available but we will review and re-instate this in the future.
---
The Heritage Library is not currently open but this will be reviewed and we will re-open when it's safe to do so.
---
There's a book I want on the shelf in the library. Can I go and get it myself?
No. Only staff have access to the books for the Select and Collect service and customers will only be allowed as far as the library entrance. If there's a specific title you'd like you can request it for free through our regular request service. You can do this on the Arena, on the app, or by calling 01234 718178 (Monday to Friday: 11am – 4pm, Saturday 10am – 5pm)
---
Will the toilets be available?
No, toilets in all libraries will not be open during Select and Collect.
---
If I joined the library online, can I use the Select and Collect service?
Yes, you can! Just fill in the Select and Collect form and we'll do the rest
---
Why is the service so limited?
The health and safety of our staff and customers is our main priority at the moment. We are following local and national guidelines for the safe re-opening of libraries and introducing services gradually.
Check the Virtual Library and our Facebook page for updates on the next phase of opening services.
---
Page last updated: 18th August 2020