Country Artefacts
Artefacts | History | Religion
Scroll down to see the country related artefact packs available. Simply email or phone us at sls@bedford.gov.uk , 01234 228755, to book the packs you want. Don't forget to tell us when you would like them delivered.
Once we receive your request we will confirm availability of your chosen packs and then send you an invoice once we have delivered.
India - Chembakolli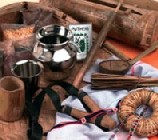 Over 20 genuine artefacts made and used by the people of Chembakolli, including a selection of typical household items and children's toys. The pack comes with descriptions and teaching activities.
Price £20.00
---
Mexico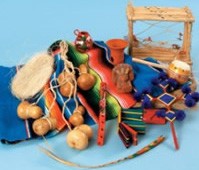 Ideal for comparing and contrasting exercises. This pack includes Mexican shawl, a Jacob's ladder, a monkey drum, flute, incense burner, a god of miaz statue, a ball of cactus material, an eye of god woven charm, a small back basket, a string of hanging gourds and a decorative painted jug. This pack comes with description and teaching activities.
Price £20.00
---
Rainforest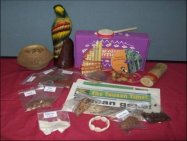 Bring the Rainforest to the classroom with this collection of items including: food items, wooden parrot statue, DVD, photos and lesson plans. Designed to meet National Curriculum objectives for KS 1&2.
Price £15.00
---