Bedfordshire Hostels
Kensworth House
Location:

Kensworth House, a Victorian house with some large conservatories in its grounds approached by a well-wooded carriage drive from Kensworth village. Three miles from Dunstable and from Whipsnade Zoo. Six miles from Luton, off Spratts Lane, Kensworth.
OS Ref: TL04331855
Description:
Accommodated up to 50 land girls. Opened at same time as Bolnhurst and Toddington Park hostels.
Opened:
c. November 1942
Closed:
c. October 1949

Kensworth House
Source: BLARS

Kensworth Hostel. Drawing by Eileen Fuller, Land Girl.
Source: Norman Willis
More information about this hostel
During the war, the stuccoed white house was painted green, as a camouflage against aerial bombardment.
Warden: Miss Seymour. A later warden was surnamed Odlum (c.Feb 1946). Dennis Willis, the former pre-war head gardener drove for the War Ag. and his wife Ada was the hostel's cook.
Eileen Fuller was one of those first girls to join the hostel, after 4 weeks' training at Luton Hoo. It was a very cold winter and she developed a paralysis in her face, through driving to farms in open lorries. She had to be transferred to work in the hostel gardens, where she grew tomatoes, peaches and even grapes in the greenhouse. "It was great fun." (Source: BBC WWII People's War website: http://www.bbc.co.uk/dna/ww2/, Article ID 3882606)
Hostel described in Bedfordshire Times (22 January 1943) as a "delightful chalet-like building" commanding a panoramic view.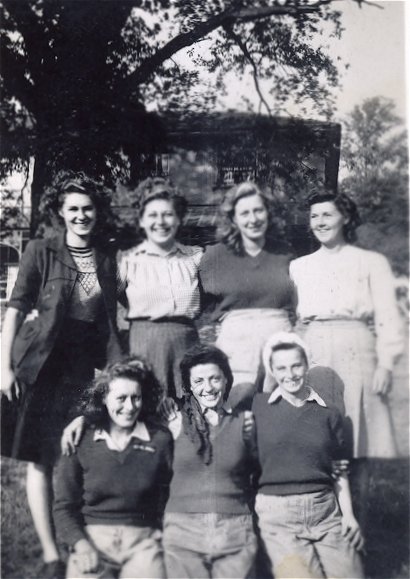 Kensworth land girls group
The Land Girl magazine reported (February 1943) that the Kensworth land girls had held a tea party for some 40 children, some from an evacuated orphanage in the village, which had previously occupied the house.
At a similar time, Mr. A.W. Hill, the Ministry of Agriculture Press Liaison Officer visited the hostel as part of a county tour, with local press representatives.
When it celebrated its third birthday in November 1945 there were still 5 of the original girls still there.
Miss Sanders, a Kensworth land girl, was awarded first prize for land work at Sharnbrook WLA Fete, 28 July 1945.
The August 1944 edition of The Land Girl magazine reported that (with Silsoe) Kensworth had completed the most overtime of any "War Ag" hostels in the county.
At the 14 February 1946 Grand Parade of the Bedfordshire Women's Land Army in Bedford before Princess Elizabeth, Vera Saunders led the Kensworth contingent, which preceded the vehicles in the display down the High Street.
Hostel girls would take a short cut across the fields to the "Horse and Jockey" pub.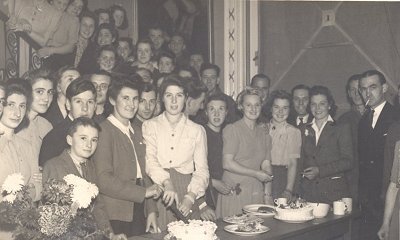 First Anniversary Party, Kensworth Hostel, November 1943
(l - r) Hannah and Minnie Leftcovitch, Norman Willis (boy)
Dances were organised at Kensworth House, using local musicians including Mrs Croxford, a local organist.
One of the land girls, Kath Ponting, from London, played the mandolin.
The 30' x 22' panelled library/billiard room became the WLA recreation room. The drawing room became the YWCA dining room.
There was a hostel baseball team.
One of the former land girls, Mary Hickey, remembers a "boarding school" feeling of fun, pillow fights, etc. She remembers gliding down the grand staircase in her dance dress and seeing her reflection in the large mirror at the foot of the stairs, and imaging herself as lady of the house.
Kensworth House from OS 6" 1924 map, showing extensive glass houses to the north of the house.
---
More Pictures of Kensworth Land Girls
---
Stuart Antrobus Historian/Author
---
---
Page last updated: 28th February 2014