Bedfordshire Hostels
Hulcote Moors
Location:

Hulcote Moors Farmhouse, outside Hulcote village, near Cranfield.
OS Ref: SP94084035
Description:
Requisitioned from Sir Frederick Richmond of Westoning Manor. Bailiff: Mr. Bonner. Accommodated up to 18 land girls
Opened:
c. July 1943
Closed:
c. March 1947

Hulcote Moors hostel
More information about this hostel
The Land Girl magazine (June, 1943) reported on two new hostels which were to open soon at Hulcote Moors and Houghton Conquest. Mrs. E. Whatling was the first Warden (her husband was Mr. S. Whatling, Bedfordshire War. Ag's Assistant Labour Officer) Bedfordshire's smallest wartime hostel.
By October 1943 there were reports of midnight adventures which had happened in September when an Polish airman had had to bale out in an adjoining field to the hostel and knocked them up at 1.40am one morning: "He was slightly injured and when the girls came down they found him standing in the hall with his parachute still trailing behind him. He was given hot drinks, treated for shock and generally feted by the whole hostel until 4am when the RAF (from Cranfield aerodrome) collected him after the Warden telephoned Headquarters." After that he wrote to the Warden and the girls and in return they sent him a signed group photograph.
One of the local RAF pilot's wives was a superb cook and would sometimes do catering for any socials they put on at the hostel. As a result it became known as "Hulcote Corner House" (after the popular Lyons Corner House chain).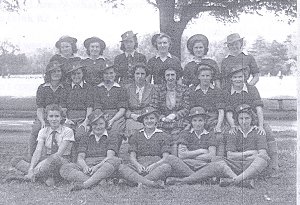 Hulcote Moors hostel group with the Warden, Mrs Whatling, 1943
Back Row (l-r) Pamela Bell, Betty Hurst (?), Thelma Mathers, Vera Hull, Elizabeth Alice Braybrook, Myra Griffiths
Middle Row (l-r) Peggy Clark, Doris Bass, Edna Harris, Gladys Hinton (Housekeeper), Mrs E Watling (Warden), (Greta) Joyce Virgin, Hilda Virgin
Front Row (l-r) ?, Zoe Odell, Audrey Joan Hinde, Marjorie Prince, ?
The RAF Officers' Mess at nearby Cranfield invited the land girls for parties. They then sent "goodies" to the hostel the day afterwards. The land girls tended to go in their dress uniform, since they hadn't got any fancy clothes to put on but trying to dance in their heavy boots wasn't a good idea.
Americans would also send lorries for the land girls to attend dances at their air bases in the north of the county, such as Chicksands and Kimbolton.
Joyce and Hilda Virgin, from Luton, were sisters based at the hostel. Farmers loved to ask, when the land girls arrived for work, by lorry, "Which ones are the Virgins?"
The land girls went for drinks in The Swan at Cranfield, as well as other pubs in the area.
Thelma Mather was the Forewoman.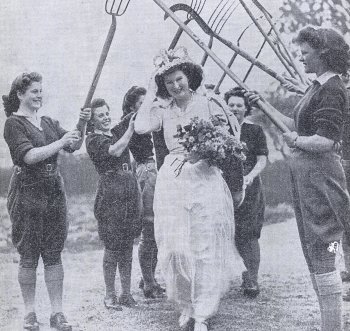 Peggy Clarkas the first-ever land girl May Queen, 1944
Audrey Clark, aged 19, was elected by her fellow land girls as the first-ever land girl May Queen and was crowned on Saturday 6 May 1944. Land Army girls afterwards danced round the maypole to the musical accompaniment of the Heath Excelsior Band. Mrs. A. Truman, Entertainments Officer of the County WLA, sat in a landau, dressed as Queen Victoria, as part of the procession through the village.
The event was repeated on Saturday 26 May 1945. As well as Maypole dancing, May Day carols were sung at the ceremony and the BBC broadcast it. Audrey's mother made her dress and her land girl attendants raised their pitchforks and rakes in salute as her guard of honour. When they also paraded down Bedford High Street, it was filmed for a newsreel film report and national as well as local press picked it up.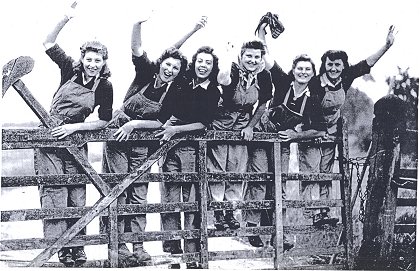 Hulcote Girls welcome the first American servicemen
L to R Maggie Prince,Peggy Clark, Thelma Mathers, Pearl Wright, Edna Harris, Doris Bass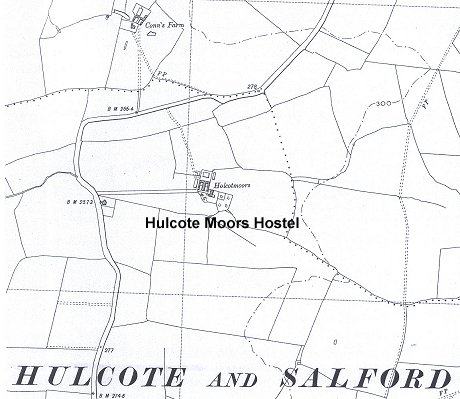 Location of Hulcote Moors hostel, near Cranfield
OS 6" map 1953 Bedfordshire sheet XX NE
---
More Pictures of Cople House Land Girls
---
Stuart Antrobus Historian/Author
---
Page last updated: 28th February 2014