Bedfordshire Hostels
Cople House
Location:
Northill Road, Cople, five miles east of Bedford (demolished after post-war fire in 1972).
OS Ref: TL 04331855
Description:
Large 3-storey country house you could not see from the road, belonging to the Barnard family (which had owned Barnards Bank in Bedford, situated opposite the entrance to the Swan Hotel, next to town bridge, on the Shire Hall side). Estate sold in June 1943 and split up. Beds War Ag decided that it need Cople House. Miss Barnard objected but was overruled. She moved to her estate in Dorset. Accommodated up to 94 land girls.
Opened:
c. September 1943
Closed:
c. September 1950

Cople Hostel
More information about this hostel
Many land girls resident there came from the north of England, including some from Grimsby, former fish girls "who swore a lot!". Others from Leeds and Rotherham.
Full with 94 girls by September 1943.
Visit to Cople House by the Duchess of Gloucester on 9 February 1944 to inspect the land girls. Introduced to some of the 4-year volunteers. Elizabeth Day presented a basket of eggs, apples, snowdrops, daffodils and anemones.
Hostel commended for their potato picking in December 1944, in The Land Girl magazine.
Excellent CEMA (Council for the Encouragement of the Arts) concert at Cople reported.
A Mrs. Stone was listed as the Warden at Cople House Hostel at the time of the 14 February 1946 parade in Bedford.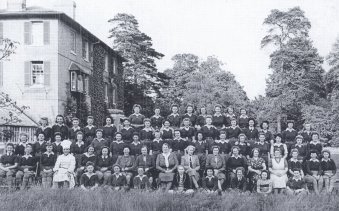 Click on the picture to see larger image
Cople was one of 7 hostels contributing to a Grand Concert in the Corn Exchange, Bedford on Friday 15 February, 1946, to raise funds for the WLA Benevolent Fund. Cople Choir (some 60 girls), trained by the BBC's Mr. J. Robinson and conducted by Leslie Woodgate. They sang "Jerusalem" (Parry), "Oh Peaceful England" (German), "I Vow to Thee My Country" (Holst) & "Song of Liberty" (Elgar)
Won First Prize in the "Brighter Hostels" competition, as reported on Land Army News in June 1947.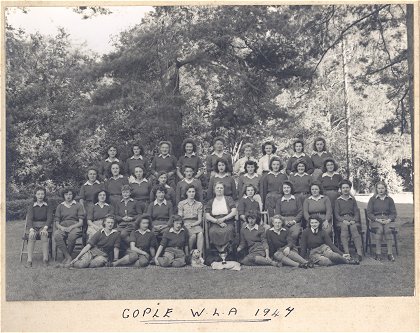 Click on the picture to see larger image
Later in 1947 at Kempston Barracks the hostel gave a special entertainment during the evening for Mrs. Inez Jenkins (Chief Administrative Officer, WLA) who presented badges and proficiency certificates to land girls, after a days tour of the county.
The Land Army news reported in September 1950 that Cople Hostel had been closed.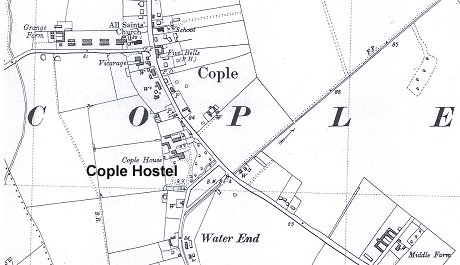 Location of Cople hostel
OS 6" map Bedfordshire sheet XVIII NW (with additions in 1948)
---
More Pictures of Cople House Land Girls
---
Stuart Antrobus Historian/Author
---
Page last updated: 28th February 2014