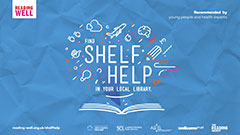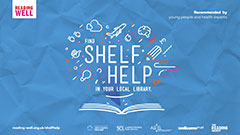 Shelf Help
Shelf Help is a new initiative to help young people aged 13-18 years manage their mental health, wellbeing and emotional resilience using recommended reading.
Shelf Help provides a booklist of 35 titles covering 12 topics and conditions including anxiety, depression, self-harm, body image and eating disorders, as well as life experiences such as bullying. The booklist features non-fiction, information and self-help material as well as memoirs, graphic novels and fiction.
The books on the booklist have been selected by Health Professionals and co-created by a team of young people who have lived with mental health conditions.
Shelf Help can be recommended by Health professionals, GPs, School Nurses etc but it is also there to support young people who may be concerned about their own emotional wellbeing or concerned about a friend and need some advice.
Bedford Borough have three collection in Bedford Central, Kempston and Putnoe Libraries. Central Bedfordshire's collections are located at Biggleswade, Dunstable , Flitwick, Houghton Regis, Leighton Buzzard, Sandy and Shefford Libraries.
See the full range of Shelf Help titles here!
---
Mental Health Awareness Week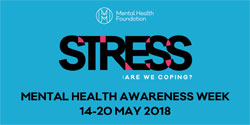 Monday 14th to Sunday 20th May is Mental Health Awareness Week; this year the focus is on stress.
Research has shown that two thirds of us experience a mental health problem in our lifetimes, and stress is a key factor in this.
By tackling stress, we can go a long way to tackle mental health problems such as anxiety and depression, and, in some instances, self-harm and suicide. Visit the Mental Health Foundation website for advice about how to deal with stress, plus libraries can help with a wide range of books on stress.
---

---
Page last updated: 11th May 2018