Bedford
Cinema History
---
Cinema in Bedford and the Chetham and Blake Families
---

With its roots in the late 19th century, the cinema in Bedford had a major social and cultural impact on the town throughout the 20th century; its development can be followed through the activities of two key families: the Chethams and the Blakes.
Samual Chetham, originally a skinner and fellmonger, was born in Manchester and came first to Potton in 1850 and then to Bedford in 1854 with his wife Ann and family. During the early 1860s he converted a redundant coal wharf at Batt's Ford into a boathouse and 'helped establish the tradition of pleasure-boating in Bedford'. In 1870 Samuel's daughter Elizabeth married William Biffen, who ran a rival boatyard. After Samuel's death in 1884, a merged company - Chetham, Sons and Biffen - was formed, involving Biffen and his son William together with Samuel Chetham's sons Samuel Jnr. and Robert Holden Chetham. In turn their respective sons - cousins William Humphrey (Will) Chetham and Robert (Bob) Chetham - joined the business after attending Bedford Modern School.
The Blake family arrived in Bedford about 1869 when William Blake came to manage a photographic business in Harpur Street, set up some years earlier as a branch of Cundall, Downes and Co., already established as 'photographers to the Queen' in London, Colchester and Bury St Edmunds. William, who was born in Surbiton, Surrey, had previously lived in Bury and came to Bedford with his wife Ann Eliza (Annie) and their daughter. The Blake family then lived just off Commercial Road where their first son, William Norman (Willie or Bill in later life) was born in 1870.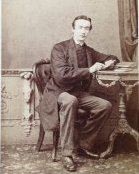 By 1871, William had set up his own photography business, trading as Blake and Edgar although it has been suggested that, Edgar, the notional partner may never have existed; after leaving Bedford Modern School, Bill joined his father's business. The family lived 'over the shop' at 32 (later re-numbered to 74) Midland Road and two more daughters were born before the birth of Ernest Edgar (Ernie) Blake there in 1879.
In 1897 William moved to premises at 38-40 High Street, planning to take advantage of the growing amateur market and about this time he produced a series of two-penny postcard views of Bedford.
Like his brother Bill, Ernie also attended Bedford Modern School but, when he left in 1895, his form master reportedly told him that he was a 'lazy, talkative, brainless youth who will never be any good'. Ernie followed Bill into his father's business and the brothers worked together as lanternists for lecturers and lime-light operators for theatrical productions and concert parties.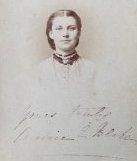 Their mother, Annie Blake, who was also a talented photographer, foresaw the need for 'living pictures', and encouraged the two boys to take up cinematography, a new venture pioneered in London and Paris in the late 1880s. From 1897 they developed a travelling picture show using first their own animatograph and then a gas-illuminated projector which they used to transport around Bedfordshire villages using a pony and trap. Working in the Corn Exchange in Bedford one day in 1901, the Blakes gave eight continuous showings of the film of the funeral procession of Queen Victoria over 11 hours, during which time the projector caught fire!
Bob Chetham and Bill Biffen often provided sound effects from behind the screen. On one notable occasion in Biggleswade, when showing a film of the funeral of Queen Victoria, they accidentally let go of a drum which rolled away and brought the screen down on the audience. Later, at a show at Grove House Farm, Biddenham, Bob Chetham sang songs to his own banjo accompaniment.
About this time, Eastman Kodak, the US film and camera company, started to set up a network of shops throughout the UK and Blake and Edgar were already stockists. In 1903, Ernie Blake joined Kodak Ltd. as a demonstrator/salesman earning 45 shillings (£2.25) a week; he travelled daily from Bedford to London, returning each evening to give the film shows.
Still pursuing their local interests in Bedford, in May 1909 the Blake brothers established the first regular cinema show in town with twice-nightly presentations of 'animated photographs' in the old YMCA Association Hall. This building, at the corner of Silver Street and Harpur Street, later the Victory Tea Rooms and now the site of Beale's department store, was then named the Picturedrome. Tickets cost no more than 6d (2.5p) and the first films shown included the 1909 FA Cup Final at Crystal Palace and a series of 'shorts'.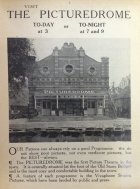 Soon after, the Blakes expanded their activities by leasing the first full-time, purpose-built cinema in Bedford, newly erected by Chetham, Sons and Biffen on their land by the Town Bridge. They called their venture the New Picturedrome Cinema and opened it on the day that King Edward VII died in May 1910, one of the first films shown being that of the funeral. In 1911, Ernie took a film of the London Sidney Street siege from the top of a neighbouring public house and showed it at the Picturedrome that same evening.
William Blake died in June 1912 and, whilst his son Bill carried on the High Street photographic business, the brothers sought to extend their cinema interests; they formed a company - Blake Bros. (Theatres) Ltd. and built the Empire Cinema in Midland Road with seating for over 500 people. Opening in May 1912, it was a town centre rival to the Palace Cinema which had opened a month earlier on the corner of the High Street and Silver Street. After the Blakes had moved on, Bob Chetham continued to run the Picturedrome with his wife Daisy Chetham. Bob left the ownership of the boatbuilding business to cousin, William Humphrey Chetham, Robert Holden Chetham having died in 1906 - the Blakes gave a wreath at his funeral - and Samuel Chetham Jnr. in 1900. Later, John Chetham would join his parents in running cinemas.
Meanwhile in 1911, Ernest Blake had become General Manager of the Kodak cinematographic film department. The First World War intervened and Ernie Blake joined the army as a driver before being commissioned in the RAF to work on aerial photographic duties. At Chetham's, boat-building ceased and Bob and Will spent much of the war building floats for aeroplanes and flying boats.
Back in Bedford, by 1917, the Empire Cinema under Bill Blake was showing a full programme of films with two shows in the evenings together with matinees on Wednesdays and Saturdays and a film show for schoolchildren on Friday afternoons.

Rejoining Kodak after the war, Ernie became European and Overseas manager; motion picture film would become a major source of revenue for Kodak and Ernie visited film studios around the world, including Hollywood.
The Palace Cinema had originally opened in April 1912 on the corner of High Street and Silver Street in an adapted building that had been the Chequers public house; it was bought by the Blakes in 1920. Bill remained in charge of the company controlling the Blakes' two cinemas in Bedford together with the two they also later ran in Hitchin.
By 1926, in competition with the Palace and the Empire, the Chethams were offering three shows a day at the Picturedrome which, in December 1929, became the first cinema to show talking films. In that same year the Chethams also opened a second cinema with 1000 seats, the Plaza Cinema on the Embankment. This demanded the further alteration of a building dating from 1911 which had already had several 'lives': as a roller-skating rink, as a hall for concerts and trade fairs, and then, divided, as a garage and café dansant. The Chetham's boat hire business came to an end in the 1930s.
Eventually the Empire Cinema was open continuously from 2pm - 11pm; talking pictures came to the cinema in 1930 and stage stars came to give 'turns' between the pictures. Ernie Blake continued his successful progress through the Kodak company and by 1930 had become a Managing Director. Whilst on holiday in the West Country in 1931, he was involved in a motoring accident which proved fatal for another driver but he was exonerated of all blame.
Bill Blake died in September 1932 at his home in Beverley Crescent, leaving his wife, Florence, but no children. After his brother's death, Ernie formed a new company and, together with the Bernstein Brothers of London, built the Granada Cinema; it was the latest in cinema architecture and design. The new cinema opened in December 1934 with 1690 seats, the best costing 1s 6d (7.5p); in the foyer that day they displayed the original projector the Blakes had first used in 1897. The Granada boasted a fine Wurlitzer organised for concerts and broadcasts and an extensive range of live performances graced the stage there in the 1960s.
The Palace was closed in March 1936 and then demolished, leaving Ernie with the Granada and the Empire operating in competition with the Plaza and the Picturedrome through the years of the Second World War when cinema audiences started to peak. CinemaScope came to Bedford at the Granada in 1954 and two years later, in October 1956, Ernie held an exhibition at the cinema entitled 60 Years of Cinematography.
In 1946, Ernie had become Chairman of Kodak, overseeing a major expansion of the company in the UK; he became semi-retired at age 75 but remained a consultant and did not finally resign his directorship until he was 80. Despite his demanding job and living part of the time in London, Ernie cherished his home town and his cinemas. He had been known to sell programmes at the Wednesday stage shows at the Granada and, until late in life, drove around Bedford in his Bentley every Friday, distributing programmes for the following week's shows.
Although Bedford still boasted four active cinemas, by the mid-1950s cinema audiences nationally were starting to decline and cinemas were closing.
Bob Chetham, who was a Rotarian, a Freemason and a delegate to the General Council of the Cinema Exhibitors Association, died in May 1954 at his home on the Embankment, a year before his cousin Will. Bob's wife Daisy, had died in 1949 and their son John Chetham, continued to operate the Picturedrome and the Plaza in Bedford and the Zonita Cinema in Ampthill which the Chethams had bought in 1952, although the latter became disused by 1960.
John Chetham, who pioneered the showing of 'continental' films in Bedford, was a founder member of Bedford Film Society when it was formed in November 1949. The Society was allowed to use the Picturedrome for its monthly shows until its closure in October 1964 and later used the Plaza until 1969 when the Chetham's involvement in Bedford cinema came to an end. In 1969, Granada bought the Plaza, renaming it the Century, but it ceased to operate as a cinema in June 1974, became 'The Nite-Spot' and was finally demolished in 1982.
Ernie Blake died at his home in Shakespeare Road in July 1961, aged 82, leaving his wife Louise and only son George Sidney William Blake; he visited the manager at the Granada on the same evening that he died. His funeral was attended by Lord Morrison of Lambeth, then chairman of the British Board of Film Censors, and many others from the worlds of photography, cinematography and sport.
Ernie Blake, 'a cheerful and forceful pioneer in photography' and 'one of the most influential men in the world's film industry,' was widely known as 'a colourful personality...a rugged and earthy character given to strong views and prejudices', famous for his after-dinner speeches with stories from the film business; he was said to be able to mix with anybody.
Ernie and Bill were founder members of the Cinema Veterans' Association in 1924and both were later Presidents. Bill was President of the Cinema Exhibitors' Association of GB in 1927 and later served as a member of the advisory board under the Cinematograph Films Act. Ernie played a prominent part in the Kinematograph Manufacturers' Association, and the British Kinematograph Society, and the Society of Motion Picture Engineers of America. He later became a member of the Cinema Consultative Committee.
The two Blake brothers were sporting men; Bill was a keen athlete and rugby supporter whilst Ernie, who had a continuing interest in Bedfordshire cricket, played water polo in his early years and would be closely associated with rugby throughout his life, being President of Bedford RUFC from 1938 until his death.

The Palace survived only until March 1936 and by October 1964 the Picturedrome had closed. Ownership of the Granada passed to Granada Theatres Ltd. in 1968 at which point 70mm projection was installed. After the Plaza/Century closed in June 1974, the Granada operated as a twin-screen cinema. In 1975 Granada also leased the Empire from the Blake Bros. trustees, re-opening it in April 1976 as Granada 3 with just one performance daily, only to finally close it in June 1977. The original Granada, the last of the town centre cinemas who demise had often been threatened, briefly became a Cannon cinema before finally closing in December 1990 and then being demolished. In the same month, December 1990, a new multi-screen Cannon Cinema was opened on what is now the Aspects Leisure park, Newnham Avenue; this subsequently became an MGM, Virgin, UGC and currently Cineworld Cinema.
Between them, the Blake and Chetham families had nurtured and supported cinema in Bedford for more than half a century, through two world wars, as technology and audiences changed; although they now leave behind little in terms of buildings they bequeath much in terms of memories.
© Gerry Allen 2013
---
These items apart from where noted *, are available at Bedford Library.
Chetham Family
The Late Mr Sam Chetham, Bedfordshire Mercury, 29th January 1909 p.4
The Late Mr R.H. Chetham, Bedfordshire Mercury, 21st September 1906 p.5
Richard Dellow. Provincial Specialist Cinemas [John Chetham], Sight and Sound, Autumn 1948 pp.129-30*
Death of Mrs R. Chetham, Bedfordshire Times, 16th September 1949 p.5
Films in Focus: Thanks to our Cinema Managers [John Chetham], Bedford Record, 28th February 1950
Death of Mr Robert Chetham – Cinema interests at Plaza and Picturedrome, Bedford Record, 4th May 1954 p.1
Obituary: Robert Chetham, The Eagle 29 (6) 1954 p.482
Funeral of Mr R. Chetham – Owner of Local Cinemas, Bedfordshire Times, 7th May 1954 p.16
Boat Builder of Note - Death of Mr W.H. Chetham, Bedford Record, 6th September 1955 p.1
Obituary: William Humphrey Chetham, The Eagle 30 (4) 1955 p.317
Bob Ricketts. A short history: Chetham, Sons and Biffen – boat builders and hire BAALHS, Newsletter (88) October 2011 pp. 34-39

Blake family
Advertisement: The Blake Bros., [Picturedrome, Association Hall], Bedfordshire Times, 17th September 1909 p.5
Advertisement: The Blake Bros. ,[New Picturedrome], Bedfordshire Times, 6th May 1910 p.6
Advertisement: Blake's Pictures [Picturedrome], Bedfordshire Mercury, 13th October 1911 p.6
Death of Bedford Photographer [William Blake], Bedford Mercury, 5th July 1912 p.7
WWI Service record: E.E. Blake, The National Archives , AIR 76/42/18*
Cross Roads Collision [ErnestBlake], Western Gazette, 21st August 1931 p.14*
Mr W.N. Blake, Death of a Well-known Bedford Citizen – Cinematograph Pioneer, Bedfordshire Times, 9th September 1932 p.8 and Bedford Record, 6th September 1932 p.1
Obituary: Mr W.N Blake, Times (London), 5th September 1932 p.12
Kodakery: a newspaper for the men and women of Eastman Kodak Company, 5 (12) March 27th, 1947 pp. 1, 5 [Ernest Blake]*
Star of Silent Screen at Bedford Film Exhibition [Sixty Years of Cinematography'] Bedfordshire Times and Standard, 12th October 1956 p.12
Chris Carter ('Touchstone'). The Many Cinema Successes of Ernest Blake: a tale of tenacity and skill and The Astonishing Career of Ernest Blake: more about his early days, Bedfordshire Times and Standard, 5th October 1956 p.10 and 12th October 1956 p.8
Obituary: Ernie Blake, Bedford Record, 18th July 1961 p.18; Bedfordshire Times, 21st July 1961 p.11; Times (London), 18th July 1961 p.15
A Man of Astonishing Ability [E.E. Blake], Bedfordshire Times, 27th July 1961
Will of Ernest Edgar Blake, died 15th July 1961 (probated 4th June 1962: £97,890 gross value)
Chris Carter ('Touchstone'). It's the Norman Blake Bedford Picture Show, Bedfordshire Times, 5th August 1977 p.10
Ernie, a showman supreme, Bedfordshire Times, 21st April 1978 p.24
D.E.H. Edgerton. Ernest Edgar Blake in D.J. Jeremy (ed), Dictionary of Business Biography, Vol 1 (Butterworth, 1984) pp.352-4*
Other sources
Alan F. Cirket. Watch the Birdie: the photographer's art in Bedford, Bedfordshire Magazine 18 (142) Summer 1982 pp.230-234
Philip Standley. Cinemas in Bedford, 1898-1978, Bedfordshire Magazine 17 (131) Winter 1979 pp.122-127
G.C.Peck. Bedfordshire Cinemas, Bedfordshire County Council, 1981
Picturedrome: opening and closure, Bedfordshire Times, 6th May 1910 p.1; [Advertisement] Bedfordshire Times, 25th September 1964 p.29
Talking pictures at the Picturedrome [Advertisement]: Talkie Season opens, Bedfordshire Times, 27th December 1929 p.5; The First Talking Picture Show, Ampthill News, 4th March 1980 p.12
Empire Cinema: opening and closure - Bedfordshire Mercury, 5th April 1912 p.6; Bedfordshire Times, 21st June 1977 p.8
Palace Cinema: opening and closure - Bedfordshire Mercury, 29th March 1912 p.5 and 5th April 1912 p.6; Bedfordshire Times, 20th March 1936 p.11
Plaza/Century/Granada 3 Cinema: opening and closure - Bedfordshire Times, 1st March 1929 p.9; Bedfordshire Times, 12th September 1969 p.4; Bedfordshire Times, 14th June 1974 p.14; Bedfordshire Times, 9th April 1976 p.20
Granada Cinema, Bedfordshire Times, 7th December 1934 p.7 and 14th December 1934 pp.8-9
Ivan Morgan. A Granada Man, http://www.chelsea-lodge.org.uk/Ivan-Morgan.htm
Ian Squires. Cinema: Two's Company, Bedfordshire Times, 26th July 1974 p.12. [Brief description and drawing of the interior of the Granada Cinema showing Granada 1 and the new Granada 2]
John D. Squires. Fifty Years of the Granada Cinema, Bedford, Bedfordshire Magazine 19 (151) Winter 1984 pp.275-8
Richard Wildman. Death of a Super-cinema: The Granada, Bedfordshire Magazine 23 (177) Summer 1991 pp.39-40
Picture a Slice of History, Bedfordshire Times 7th December 1990 p.5
Cannon Cinema and successors Advertisement: Opening of the Cannon Cinema, Newnham Avenue - Bedfordshire Times 7th December 1990 p.16 and 21st December 1990 p.11; Cineworld Cinema, Bedfordshire on Sunday 20th June 2010 p.26
Websites
---
---
Page last updated: 23rd January 2014