Bedford
First World War Timeline
January to March 1915
---
Based on local newspaper research in the Bedfordshire Times and Independent.
[Notes in square brackets have been added by the compiler to clarify, where needed, and to set the local event in a national context.]
Compiled by local historian Stuart Antrobus.
---
1 January 1915
P5 (Cols 1-4)
'The Hogmanay Supper: A Gigantic Festival: New Year's Eve was celebrated in Bedford... by holding the most tremendous series of supper parties that has ever taken place simultaneously... to entertain... the whole of the Territorial Troops billeted in unfurnished houses in Bedford... in eighteen different halls ... 400 stewards... 300 entertainers... the cost of the feast was about £1000... '
P5 (Col 5)
'Letters About the War: British and German Good Friends: Miss N. Thody of 1 Peel-street, Bedford, has received a letter from Lance-crpl.[sic] Cooper... which gives an astonishing account of Christmas Day in the trenches.. dated 2 December 1914':
"... .what I am going to tell you will be hard to believe, but it is quite true. Just after one o'clock on Christmas morning I was on look-out duty, and one of the Germans wished "Good morning and a Merry Christmas". I was never more surprised in my life when daylight came to see them all sitting on the top of the trench waving their hands and singing to us. There was no firing on Christmas Day and the Germans were quite friendly with us. They even came over to our trenches and gave us cigars, cigarettes, and chocolates, and, of course, we gave them things in return."
P5 (Col 5)
'Items and Episodes: ... One of the soldiers home on leave was present at the execution of Karl Loder, the spy, who was shot in the Tower of London... ' [Eleven German spies were executed in the Tower of London, shot at dawn by detachments from the Guards.]
8 January 1915
P5 (Col 2)
Letter to the Editor: 'Thanks for the New Year's Dinner: Will you kindly allow us to thank the many citizens of Bedford for all the help they gave in connexion with the Hogmanay Entertainment to the Troops... and beg you to print the enclosed letter of thanks we have received from Major-General Allason, Commanding the Highland Division. – Yours faithfully, Harry Browning (Mayor), President, Henry Tebbs, Chairman, William Machin, Secretary [Bedford Borough Recreation Committee]'.
15 January 1915
P5 (Cols 1-2)
'Deaths Among the Scottish Territorials: ... statistics relating to the Highland Division.T.F. [Territorial Force], in Bedford from August 17, 1914, to January 9, 1915. The deaths during that period from acute infectious diseases number 33, viz.:- From Scarlet Fever ... 3; From Diptheria... 3; From measles... 27. In addition there have been 3 fatal cases of pneumonia, 1 of uraemia, and two of violence, making a total number of deaths from all causes... 39... The average number of troops quartered in and around Bedford during the last five months has been about 17,500 and the total number of deaths works out at the low rate of 2.22 per 1000... The units most seriously affected [Camerons, 14 deaths] were those drawn from isolated and sparsely populated districts where measles seldom occur.'
P6 (Cols 5-7)
'A Visitor's Impression of a Bedford Billet' [a cartoon drawing entitled 'The Highlanders Saturday Night' by F.H. Stingemore, showing '4th battalion Cameron Highlanders Bedford, January 1915'].
22 January 1915
P5 (Col 4)
'Bunyan Meeting Canteen: Since the return of the 8th Argylls from quarantine at Howbury, Bunyan Canteen has been very merry and bright. The room is crowded each night, and the amount of porridge consumed is remarkable. So is the amount of energy and indefatigable hard work shown by the ladies who wait on the men. The young lions do suffer hunger, and the ladies seem untiring in their hard work. On Friday there was a good programme of music given, which the men much appreciated.'
P6 (Cols 5-6)
'Mr Harry Lauder and His Son [Photo and caption]: Mr Harry Lauder [popular music hall artiste who was later knighted] has recently returned from a tour of America and the Colonies and his first act was to call on his only son, Lieut. Lauder, of the 8th Battalion, Argyll and Sutherland Highlanders.
9 January 1915
P6 (Cols 2-3)
'A Bedford Billet in an Unfurnished Room' a sketch by Private Stewart Knock, 6th Seaforth Highlanders, showing two soldiers in kilts sitting on boxes in a front room with their equipment around them, eating a meal.
5 February 1915
P5 (Cols 2-3)
Line drawing by Private Stewart Knock, 6th Seaforth Highlanders, showing soldiers "Changing Billets" (carrying their domestic belongings along the street)
P6 (Cols 3)
'H.R.H. Princess Louise Inspects Scottish Troops' [Argyll and Sutherland Brigade, Putnoe, 3 February 1915. Princess Louise was the 6th child, 4th daughter of Queen Victoria.]
12 February 1915
P6 (Cols 3-5)
Collage of seven photos showing the Highland Brigade being inspected by H.R.H. Princess Louise [on 3 February].
P6 (Cols 3-4)
Sketch entitled 'Cooking under Difficulties' drawn by Private Stewart Knock, 6th Seathforth Highlanders, showing the field kitchen in Bedford Park.
19 February 1915
P5 (Cols.2-3)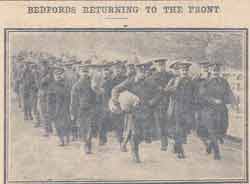 'Bedfords returning to the Front': Photo showing men of the Bedford regiment who, having recovered in hospital from wounds, heading back to 'the Front' [the battle area in France].
P5 (Cols 2-3)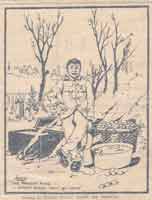 Sketch by Private Stewart Knock, showing 'Jock, The Potato King – knows every "Taty" by name': boiling potatoes in an outdoor field kitchen.
26 February 1915
P5 (Cols1-3)
Photo showing the 4th Battalion, Seaforth Highlanders marching down De Parys Avenue, past the John Bunyan statue, on their way to the Front, on 5th November 1914 [previously not allowed to be published by the official Censor].
P5 (Col 4)
'The New Swimming Bath': an indoor swimming pool for soldiers, designed by an army engineer, was constructed on land belonging to the Midland Railway Company alongside Cauldwell Road, between the Electricity Works and the river. The swimming bath was 100 feet long and 35 feet wide, with a depth ranging from 3 feet to 6 feet. The aim was to have the river water at a temperature of 70 degrees with heat derived from the condensing steam of the Electricity Works, after which it is passed back to the river. 'At present we do not suppose the bath will be available for civilians, but it is hoped to reserve Sundays for officers and their friends.' It was opened on Wednesday 25 February and the wish was expressed that, when the soldiers finally left Bedford, it might be gifted to the town by the Army for civilian use.
5 March 1915
P5 (Cols 2-3)
Cartoon sketch 'Just Before "Lights Out"' by Private Stewart Knock, showing soldiers in an unfurnished room with their bedding placed on bare floorboards.
12 March 1915
P4 (Cols 4-5)
Advertisement by Bedford Borough Recreations Committee 'Highland Games: Easter Monday, April 5, 1915, from 11am to 6pm on the Grammar School Field, Bedford. '£50 in prizes'.
P5 (Cols 4-5)
Cartoon showing a man who had appeared unshaven on parade standing, in the street, before his commanding officer. Sketch by Private A. Thorpe of the 6th Argyll and Sutherland Highlanders.
19 March 1915
P7 (Cols 4-6)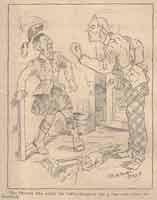 'The march of the Bedford Men': photo of Bedford Volunteer Training Corps marching along Cardington Road to drill in a field.
(Cols 4-5)
Cartoon by Private A. Thorpe entitled 'The Private who asked his Colour-Sergeant for a free pass home to Scotland'.
26 March 1915
P6 (Cols 3-4)
Advertisement: 'Wanted – Men for enlistment for the Remount Squadrons of the Army Service Corps. Men accustomed to the care and management of horses. Aged 25 to 40 years'.
P7 (Cols 4-5).
Cartoon by Private Stewart Knock, entitled 'Writing Home', showing an unfurnished billet with Stewart seated on a rolled-up mattress writing a letter, with nearby a soldier cooking a fryup, another polishing his boots and a third playing the bagpipes.
---
Page last updated: 22nd August 2014