Bedford
Bedford Physical Training College
---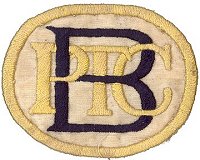 In 1903 Margaret Stansfeld purchased Wylam Lodge (37 Lansdowne Road) and founded the Bedford Physical Training College (BPTC).
Margaret Stansfeld was a proponent of the work of Per Henrik Ling (1776-1839), a Swedish theorist in the field of physical education. Ling developed his "Swedish System" from his knowledge of fencing and he founded the Royal Central Gymnastics Institute in Stockholm in 1813. Margaret had been trained in the Hampstead Gymnasium run by Martina Bergman-Osteberg, (a pupil of Lings) and was a former member of staff.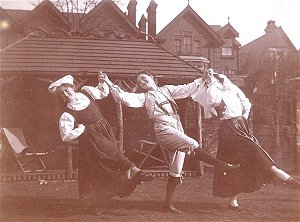 Students from BPTC dancing minuets (1911)
BPTC soon grew and additional properties were purchased; 29 Landowne Road, 5 Dynevor Road and 31 Lansdowne Road (in 1914).
The curriculum included gymnastics, an early form of physiotherapy, anatomy, games, dancing, fencing, first aid and elocution lessons.
After the First World War numbers of students increased and more buildings were purchased in Lansdowne Road, the courses were also extended to allow more time for academic progress. In 1923 Margaret Stansfeld was appointed Physical Education Organiser for Bedford.
In 1935 the college was granted the right to offer its students a Diploma in the Theory and Practise of Physical Education, before this date students had graduated with a BPTC Diploma. With this they were granted a silver badge in honour of their new status.
Throughout the 1940s the curriculum was extended to include more expressive dance techniques including the work of Rudolf Laban. The college also gained a reputation for producing very good sportswomen, some at international level. In 1939 Margaret Stansfeld was awarded the OBE.
The 1940s were a difficult ones for the college, particularly in respect of funding and in 1952 the college was taken over by Bedfordshire County Council.
In 1976 the college was joined with Bedford Training College and Mander College of Further Education to form Bedford College of Higher Education. In 1994 Bedford College of Higher Education left local authority control and was amalgamated into campuses of De Montfort University.
Sources
On others shoulders: an illustrated history of Polhill and Lansdowne Colleges, now De Montfort Unitversity Bedford by Richard Smart, De Montfort University, 1994
---
Bedford Physical Training College by Bedfordshire Libraries, 2006
---
Page last updated: 21st January 2014