Bedford Borough Libraries Select and Collect Service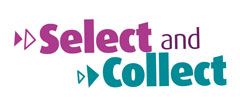 Following the government's announcement of a National Lockdown, we are continuing to offer Select and Collect services from Bedford Central and Kempston Libraries.
More information about the national lockdown can be found on the GOV.UK website.
Please do not worry about your loans, reservations or staff selected bundles; your loans will all be extended and we will ensure that you will not go overdue while national lockdown continues. We can also extend the collection dates for your reservations and bundles, just Contact Us if you would like us to do this or you have any questions or concerns.
Which services are available
Bedford Central Library and Kempston Library are open for the following services, which are available at the library entrances during opening hours:
Select and Collect Opening Hours:
Bedford Central Library
Monday to Friday 11.00am – 1.00pm
Saturday 10.00am – 1.00pm
Kempston Library:
Tuesday & Thursday 10.00am – 12.30pm
Saturday 9.30am – 12.30pm
The Select and Collect phone line (01234 718178) is open Monday to Saturday 11.00am – 4.00pm.
Find out more about Select and Collect here.
Books can be returned at library entrances during these hours, however we have extended the return date for all items on loan, which were not overdue on the 20th March 2020, and will ensure that you do not receive overdue charges whilst we are in lockdown.
You must not visit the library if you, or anyone in your household, have had any Covid-19 symptoms in the last 14 days.
Just contact us or call the Select and Collect Line on 01234 718178 and we will happily extend the collection date for your books.
Please remember you must wear a face covering when visiting a library, unless you have a legitimate reason not to.
Other Services
We are delighted to offer Select and Collect at Bedford Central and Kempston libraries but we appreciate that it is not the full range of services that customers are used to.
We have developed a phased approach to reopening in line with national guidelines for the safe reopening of libraries. We are keeping this plan under continual review and will reintroduce other services when it is possible to do so safely for both customers and staff. Please check here and our Facebook page for updates.
The following services are not available at the moment:
Select and Collect is initially running from Bedford Central and Kempston libraries – updates about the reopening of other libraries will follow
The Mobile Library is not currently running due to the challenges involved with operating in a confined space
Customer browsing of titles in libraries
Computer access
Printing and photocopying
Study space
Newspapers and magazines
Activities – many of our activities have moved online
Room hire
The Heritage Library.
Find out more about what is happening with other services here.
There is still an amazing range of library services you can access from home via the Virtual Library, including eBooks, audiobooks, magazines, newspapers and music.
Find out more about our digital resources here.
Reservations and Charges
Items already on loan, and not overdue on Friday 20th March 2020, continue to have their due dates extended
Overdue charges remain paused for any items that were overdue as of Friday 20th March 2020
The loan period has been temporarily extended from 3 to 6 weeks for all items issued
There are currently no reservation fees associated with Select and Collect or individual title requests
If you have any questions then please Contact Us.
For more information about the coronavirus and things to do from home click here
---
Page last updated: 7th January 2021