Thomas Snagge
---
Thomas Snagge 1536 - 1593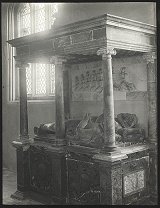 Thomas Snagge, born in 1536 in Letchworth, was the son of Lord Thomas Snagge of Morteyne Manor in Bedfordshire. He studied law at Greys Inn, and after being called to the Bar in 1554, he practiced law in London.
He owned a much land in Bedfordshire, some of which he received on marriage. This included the estate of Kempston Daubeney as well as the baronetcy and castle of Bedford.
Snagge became MP for Bedfordshire in 1571.
He was a confirmed protestant and as such was given responsibilities in the government and for crown. These included representation on committees for church attendance, subsidy, treasons and corrupt presentations. He was also at the hearing for Mary, Queen of Scots, in 1586.
Snagge was chosen by Queen Elizabeth to be Attorney General for Ireland and he held this appointment from 1577 to 1580. He returned as sergeant at law.
In 1588-90 he became Speaker of the House of Commons and later he was promoted to Queens Sergeant.
Snagge was buried at Marston Moretaine in St. Mary's Church, where there is an alabaster tomb with recumbent effigies of both him and his wife.
Sources:
Andrew Lyall, Snagge, Thomas (15361593), Oxford Dictionary of National Biography, Oxford University Press, Sept 2004;
www.Tudorhistory.org/ Lara E Eakins
The Bedfordshire Magazine Vol. 1, No1, Summer 1947
Millbrook: Village in the Hills by Mary S.F. George
---
Page last updated: 28th May 2020