Bedford
The Bedford Bee
---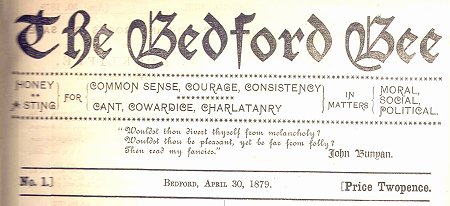 The first edition of the Bedford Bee was printed on the 30th April 1879 and the last on the 31st December 1879. This satirical publication concentrated on local matters and each number contained a cartoon of a well known local person. The last cartoon was of the editor and proprietor 'Ion Commoner'. In real life this was G. Gordon Flaws, who besides writing most of the content also did the drawings for the cartoons.
Touchstone, a well known columnist for the Bedfordshire Times said of the publication "It was a pity The Bedford Bee came to such an untimely end, because it was bright and amusing, and fearless in exposing what the editor deemed were shams and hypocrisies in the Bedford of that time." (Bedfordshire Times, 19th July 1957, p.10)
On the eve of its demise the circulation of the publication was 1,500 per week. The first five issues were published by Mr. J. Walsh "Record Office", 5 Harpur Street, Bedford. Later issues were published by Messrs. A.A. Jakins of Silver Street and Ram Yard.
Sources:
Bedfordshire Times and Standard, 24th November 1944, p8
Bedfordshire Times, 19th July 1957, p.10
See copies of The Bedford Bee in:
Bedford Central Library - Heritage Library
---
The Bedford Bee, by Bedfordshire Libraries, 2008
---
Page last updated: 4th February 2014