Samuel Wray
---
A narrative of the adventures of Samuel Wray now living at Kempston, Bedfordshire, from the time of his volunteering for that parish in 1796, till his return to England in 1815, published by C.B. Merry, 1823, Bedford.
---
Page Twenty Three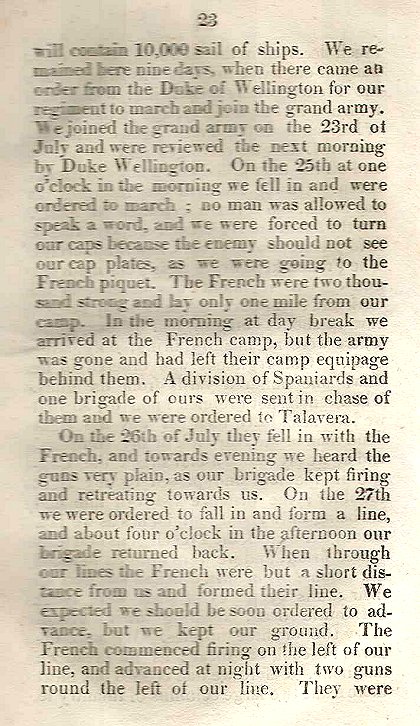 Bedfordshire Libraries, 2007
After spending only nine days in Lisbon the regiment is ordered by the Duke of Wellington to join the grand army. This was done on the 23rd July. On the 25th the men fell in and were ordered to march in silence with their caps turned so the enemy could not see the cap plates. The 2,000 strong French army lay only one mile from the camp. On arrival at the French camp the army was found to be gone and a brigade was despatched to chase them. On the 26th July this brigade fell in with the French and on the 27th July Wray and his fellow men were ordered to fall in and form a line. The French started to fire to the left of his line and advanced at night with two guns round the left of the line.
---
Page last updated: 4th February 2014