Samuel Wray
---
A narrative of the adventures of Samuel Wray now living at Kempston, Bedfordshire, from the time of his volunteering for that parish in 1796, till his return to England in 1815, published by C.B. Merry, 1823, Bedford.
---
Page Sixteen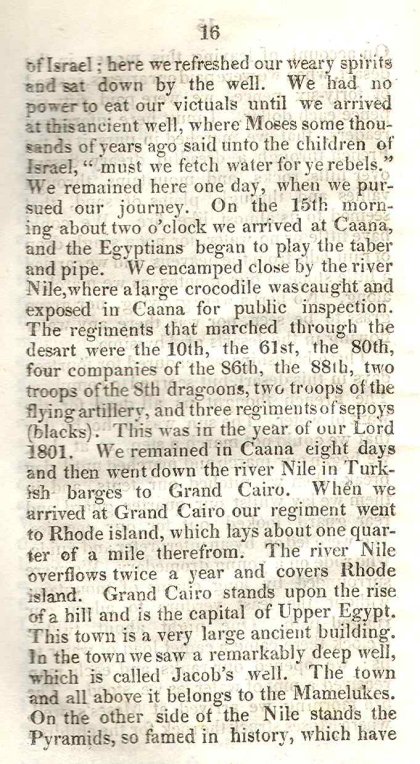 Bedfordshire Libraries, 2007
The men arrive at Caana where they camp close to the River Nile and inspect a crocodile that had been captured for public view. The Regiments that marched through the desert in 1801 were the 10th, the 61st, the 80th, four companies of the 86th, the 88th, two troops of the 8th dragoons, two troops of the flying artillery and three regiments of sepoys (Indian soldiers). The troops remained in Caana for eight days and then went down the Nile in Turkish barges to Grand Cairo. When Wray reached Grand Cairo his regiment was sent to nearby Rhode Island.
---
Page last updated: 4th February 2014