Cardington
R101
---
Sunday Pictorial 12th October 1930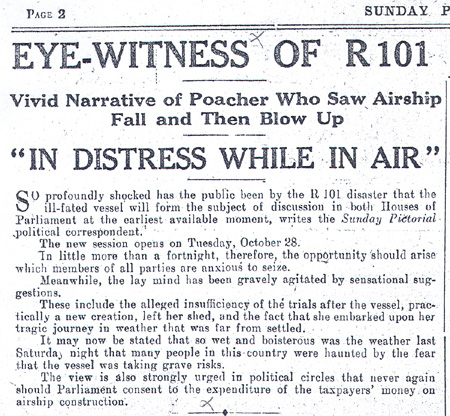 Transcription
EYEWITNESS OF R101
Vivid Narrative of Poacher Who Saw Airship Fall and Then Blow Up
"IN DISTRESS WHILE IN AIR"
So profoundly shocked has the public been by the R101 disaster that the ill-fated vessel will form the subject of discussion in both Houses of Parliament at the earliest available moment, writes the Sunday Pictorial Political correspondent.
The new session opens on Tuesday, October 28.
In little more than a fortnight, therefore, the opportunity should arise which members of all parties are anxious to seize.
Meanwhile, the lay mind has been gravely agitated by sensational suggestions.
These include the alleged insufficiency of the trials after the vessel, practically a new creation, left her shed, and the fact that she embarked upon her tragic journey in weather that was far from settled.
It may now be stated that so wet and boisterous was the weather last Saturday night that many people in this country were haunted by the fear that the vessel was taking grave risks.
The view is also strong urged in political circles that never again should Parliament consent to the expedition of the taxpayers money on airship construction.
Sunday Pictorial 12th October 1930
---
Page last updated: 3rd February 2014