Cardington
R101
---
People 12th October 1930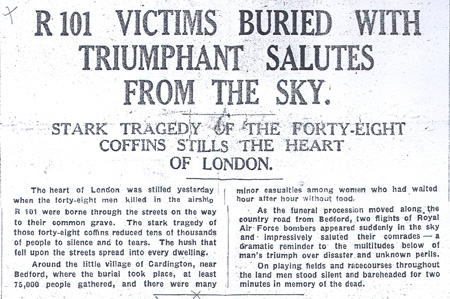 Transcription
R101 VICTIMS BURIED WITH TRIUMPHANT SALUTES FROM THE SKY
STARK TRAGEDY OF THE FORTY EIGHT COFFINS STILL THE HEART OF LONDON
The heart of London was stilled yesterday when the forty-eight men killed in the airship were born through the streets on the way to their common grave. The stark tragedy of those forty-eight coffins reduced tens of thousands of people to silence and to tears. The hush that fell upon the streets spread into every dwelling. Around the little village of Cardington, near Bedford, where the burial took place, at least 75,000 people gathered, and there were many minor casualties among women who had waited hour after hour without food.
As the funeral procession moved along the country road from Bedford, two flights of Royal Air Force bombers appeared suddenly in the sky and impressively saluted their comrades--- a dramatic reminder to the multitudes below of mans triumph over disaster and unknown perils.
On playing fields and racecourses throughout the land men stood silent and bareheaded for two minutes in memory of the dead.
The People 12th October 1930
---
Page last updated: 3rd February 2014