Cardington
R101
---
Evening News 14th October 1929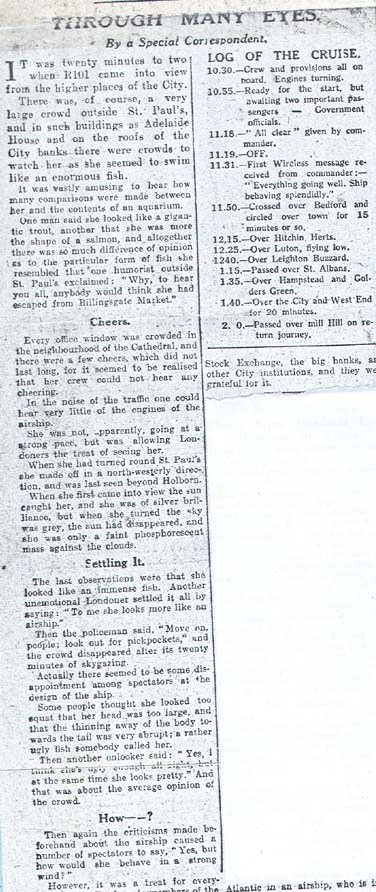 Transcription
THOROUGH MANY EYES
By a Special Correspondent
It was twenty minutes to two when the R101 came into view from the higher places of the City.
There was, of course, a very large crowd outside St. Pauls, and in such buildings as Adelaide House and on the roofs of the City Banks there were crowds to watch her, as she seemed to swim like an enormous fish.
It was vastly amusing to hear how many comparisons were made between her and the contents of an aquarium.
One man said she stood like a gigantic trout, another that she was more the shape of a salmon, and altogether there was so much difference of opinion as to the particular form of fish she resembled outside St. Pauls exclaimed Why to hear you all, anybody would think she has escaped from Billingsgate Market.
CHEERS
Every office window was crowded in the neighbourhood of the Cathedral, and there were a few cheers, which did not last long, for it seemed to be realised that her crew could not hear any cheering.
In the noise of the traffic one could hear very little of the engines of the airship.
She was not, apparently going at a strong pace, but was allowing Londoners the treat of seeing her.
When she turned round St. Pauls she made of in a north- westerly direction, and was last seen beyond Holborn.
When she first came into view the sun caught her, and she was of a silver brilliance, but when she turned the sky was grey, the sun had disappeared, and she was only a faint phosphorescent mass against the clouds.
SETTLING IT
The last observations were that she looked like an immense fish. Another unemotional Londoner settled it all by saying To me she looks more like an airship.
Then the policeman said, Move on people; look out for pickpockets, and the crowd disappeared after its twenty minutes of sky gazing.
Actually there seemed to be some disappointment among spectators at the design of the ship.
Some people thought she looked too squat that her head was too large, and that the thinning away of the body towards the tail was too abrupt; a rather ugly fish someone called her.
Then another onlooker said: "Yes, I think she is ugly alright, but at the same time she looks pretty. And that was about the average opinion of the crowd.
HOW----?
Then again the criticisms made beforehand about the airship caused a number of spectators to say, Yes, but how would she behave in a strong wind?".
However, it was a treat for everybody, from office boys to members of the Stock Exchange, the big banks, and other City institutions and they were grateful for it.
LOG OF THE CRUISE
| | |
| --- | --- |
| 10.30 | Crew and provisions all on board. Engines turning. |
| 10.55 | Ready for the start, but awaiting two important passengers Government officials |
| 11.18 | "All Clear" given by commander |
| 11.19 | OFF |
| 11.31 | First Wireless message received from commander : "Everything going well. Ship behaving splendidly" |
| 11.50 | Crossed over Bedford and circled over town for 15 minutes or so. |
| 12.15 | Over Hitchin, Herts. |
| 12.25 | Over Luton, flying low. |
| 12.40 | Over Leighton Buzzard. |
| 1.15 | Passed over St. Albans |
| 1.35 | Over Hampstead and Golders Green |
| 1.40 | Over the City and West End for 20 minutes |
| 2.0 | Passed over mill hill on return journey |
Evening News 14th October 1929
---
Page last updated: 3rd February 2014