Cardington
R101
---
The Evening News 14th October 1929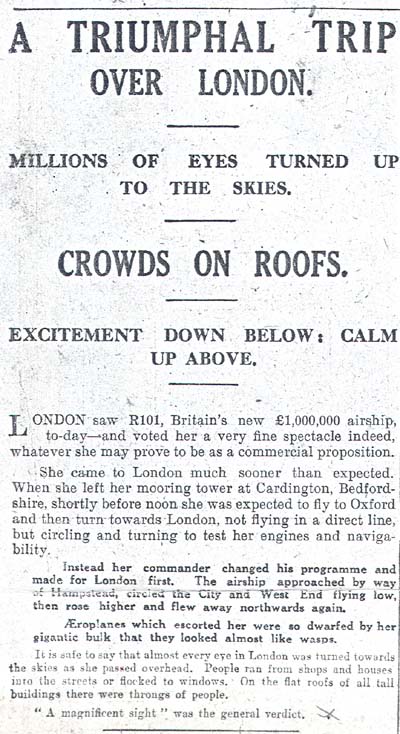 Transcription
A TRIUMPHAL TRIP OVER LONDON
MILLIONS OF EYES TURNED UP TO THE SKIES
CROWDS ON ROOFS
EXCITEMENT DOWN BELOW: CALM UP ABOVE
London saw R101, Britain's new 1,000,000 airship, today., and vote her a fine spectacle indeed, whatever she may prove to be as a commercial proposition.
She came to London much sooner than expected. When she left her mooring tower at Cardington, Bedfordshire, shortly before noon she was expected to fly to Oxford and then turn towards London, not flying in a direct line, but circling and turning to test her engines and navigation.
Instead her commander changed his programme and made for London first. The airship approached by way of Hampstead, circled the City and West End flying low, then rose higher and flew away northwards again.
Aeroplanes which escorted her were so dwarfed by her gigantic bulk that they looked almost like wasps.
It is safe to say that almost every eye in London was turned towards the skies as she passed overhead. People ran from shops and houses into the streets or flocked to windows. On the flat roofs of all tall buildings there were throngs of people.
"A magnificent sight" was the general verdict.
The Evening News 14th October 1929
---
Page last updated: 3rd February 2014