Cardington
R101
---
Daily Mirror 6th October 1930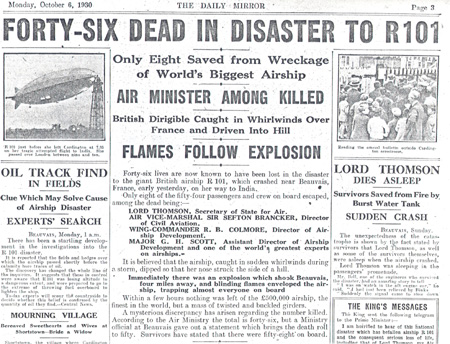 Transcription
FORTY SIX DEAD IN DISASTER TO R101
Only Eight Saved from Wreckage of Worlds Biggest Airship
AIR MINISTER AMONG KILLED
British Dirigible Caught in Whirlwinds Over France and Driven Into Hill
FLAMES FOLLOW EXPLOSION
Forty-six lives are now known to have been lost in the disaster to the giant British airship R101, which crashed near Beauvais France, early yesterday, on her way to India.
Only eight of the fifty-four passengers and crew on board escaped, among the dead being :-
LORD THOMSON, Secretary of State for Air.
AIR VICE-MARSHALL SIR SEFTON BRANCKER, Director of Civil Aviation
WING-COMMANDER R.B.COLMORE, Director of Air-Ship Development.
MAJOR G.H.SCOTT, Assistant Director of Development and one of the worlds greatest experts on airships
It is believed that the airship, caught in sudden whirlwinds during a storm, dipped so that her nose struck the side of a hill.
Immediately there was an explosion which shook Beauvais, four miles away, and blinding flames enveloped the air-ship, trapping almost everyone on board.
Within hours nothing was left of the 500,000 airship, the finest in the world, but a mass of twisted and buckled girders.
A mysterious discrepancy has arisen regarding the number killed. According to the Air Ministry the total is forty-six, but a Ministry official at Beauvais gave out a statement which brings the death roll to fifty. Survivors have stated that there were fifty-eight on board.
Daily Mirror 6th October 1930
---
Page last updated: 3rd February 2014