Cardington
R101
---
Daily Mail 6th October 1930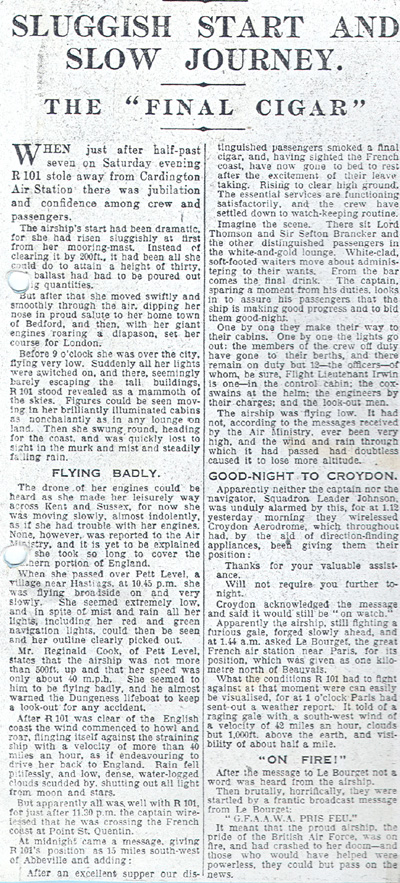 Transcription
SLUGGISH START AND SLOW JOURNEY
THE FINAL CIGAR
When just after half-past seven on Saturday evening R101 stole away from Cardington Air Station there was jubilation and confidence among crew and passengers,
The airships start had been dramatic, for she had risen sluggishly at first from her mooring-mast. Instead of clearing it by 200 ft, it had been all she could do to attain a height of thirty and ballast had to be poured out in large quantities.
But after that she moved swiftly and smoothly through the air, dipping her nose in proud salute to her home town of Bedford and then, with her giant engines roaring a diapason, set her course for London.
Before 9 oclock she was over the city, flying very low. Suddenly all her lights were switched on, and there, seemingly barely escaping the tall buildings, R101 stood revealed as a mammoth of the skies. Figures could be seen moving in her brilliantly illuminated cabins as nonchalantly as any lounge on land. Then she swung round, heading for the coast, and was quickly lost in the mist and steadily falling rain.
FLYING BADLY
The drone of her engines could be heard as she made her leisurely way across Kent and Sussex, for now she was moving slowly, almost indolently, as if she had trouble with her engines. None, however, was reported to the Air Ministry, and it is yet to be explained why she took so long to cover the Southern portion of England.
When she passed over Pett Level, a village near Hastings at 10.45pm she was flying broadside on and very slowly. She seemed extremely low and in spite of mist and rain all her lights including her red and green navigation lights, could be seen and her outline clearly picked out.
Mr. Reginald Cook, of Pett Level states that the airship was not more than 500ft up and that her speed was only about 40m.p.h. She seemed to him to be flying badly, and he almost warned the Dungness lifeboat to keep a lookout for any accident.
After the R101 was clear of the English coast the wind commenced to howl and roar, flinging itself against the straining ship with a velocity of more than 40 miles an hour, as if endeavouring to drive her back to England. Rain fell pitilessly, and low, dense, waterlogged clouds scudded by, shutting out all light from moon and stars.
But apparently all was well with the R101, for just after 11.30pm the captain wire-lessed that he was crossing the French coast at Point St. Quentin.
At midnight came a message, giving R101s position as 15 miles south-west of Abbeville and adding :
After an excellent supper our distinguished passengers smoked a final cigar, and having sighted the French coast, have now gone to bed to rest after the excitement of their leave taking. Rising to clear high ground. The essential services are functioning satisfactorily, and the crew have settled down to watch-keeping routine.
Imagine the scene. There sit Lord Thomson and Sir Sefton Brancker and other distinguished passengers in the white and gold lounge. White-clad, soft-footed waiters move about administering to their wants. From the bar comes the final drink. The captain sparing a moment from his duties, looks in to assure his passengers that the ship is making good progress and to bid them goodnight.
One by one they make their way to their cabins. One by one the lights go out; the members of the crew off duty have gone to their berths, and there remains on duty but twelve-the officers-of whom, be sure Flight Lieutenant Irwin is one-in the control cabin; the coxwains at the helm; the engineers by their charges; and the look-out man.
The airship was flying low. It had not, according to messages received from the Air Ministry, ever been very high, and the wind and rain through which it has passed had doubtless caused it to lose more altitude.
GOOD-NIGHT TO CROYDON
Apparently neither the captain nor the navigator, Squadron Leader Johnson, was unduly alarmed by this, for at 1.12yesterday morning they wirelessed Croydon Aerodrome, which throughout had, by aid of direction finding appliances, been giving them their position :
Thanks for your valuable assistance
Will not require further tonight.
Croydon acknowledged the message and said it would still be on watch
Apparently the airship, still fighting a furious gale, forged slowly ahead, and at 1.44am asked Le Bourget, the great French air station near Paris, for its position, which was given as one kilometre north of Beauvais.
What conditions the R101 had to fight against at that moment were can easily be visualised, for at 1 oclock Paris had sent out a weather report. It told of a raging gale with a south-west wind of a velocity of 42 miles an hour, clouds but 1,000ft above the earth, and visibility of about half a mile.
ON FIRE!
After the message to Le Bourget not a word was heard from the airship.
Then brutally, horrifically, they were startled by a frantic broadcast message from Le Bourget
G.F.A.A.W.A. PRIS FEU
It meant that the proud airship, the pride of the British Air Force, was on fire, and had crashed to her doomand those who would have helped were powerless, they could but pass on the news.
The Daily Mail October 6th 1930
---
Page last updated: 3rd February 2014