Cardington
R101
---
Daily Mail 6th October 1930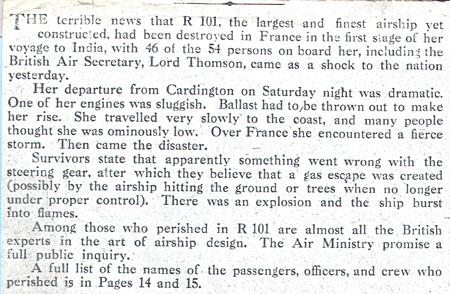 Transcription
TROUBLE AT START OF TRIP
The terrible news that R101 the largest and finest airship yet constructed had been destroyed in France in the first stage of her voyage to India, with 46 of the 54 persons on board her, including the British Air Secretary, Lord Thomson, came as a shock to the nation yesterday.
Her departure from Cardington on Saturday night was dramatic. One of her engines was sluggish. Ballast had to be thrown out to make her rise. She travelled very slowly to the coast, and many people thought she was ominously low. Over France she encountered a fierce storm. Then came the disaster.
Survivors state that apparently something went wrong with the steering gear, after which they believe that a gas escape was created(possibly by the airship hitting the ground or trees when no longer under proper control). There was an explosion and the ship burst into flames.
Among those who perished in R101 are almost all the British experts in the art of airship design. The Air Ministry promises a full public enquiry.
A full list of the passengers, officers and crew who perished is on Pages 14 and 15
Daily Mail October 6th 1930
---
Page last updated: 3rd February 2014