Cardington
R101
---
Daily Herald 8th October 1930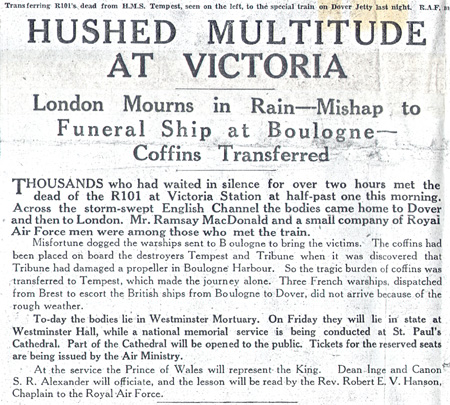 Transcription
HUSHED MULTITUDE AT VICTORIA
London Mourns in Rain --- Mishap to Funeral Ship at Boulogne
Coffins transferred
Thousands who had waited in silence for over two hours met the dead of the R101 at Victoria Station at half past one this morning. Across the storm swept English Channel the bodies came home to Dover and then to London. Mr. Ramsay MacDonald and a small company of Royal Air Force men were among those who met the train.
Misfortune dogged the warships sent to Boulogne to bring the victims. The coffins had been placed on board the destroyers Tempest and Tribune when it was discovered that Tribune had damaged a propeller in Boulogne Harbour. So the tragic burden of coffins was transferred to Tempest, which made the journey alone. Three French warships, dispatched from Brest to escort the British ships from Boulogne to Dover, did not arrive because of the bad weather.
Today the bodies lie in Westminster Mortuary. On Friday they will lie in state at Westminster Hall, while a national memorial service is being conducted at St. Pauls Cathedral. Part of the Cathedral will be opened to the public. Tickets for the reserved seats are being issued by the Air Ministry.
At the service the Prince of Wales will represent the King. Dean-Inge and Canon S.R. Alexander will officiate, and the lesson will be read by the Rev. Robert E.V.Hanson, Chaplain to the Royal Air Force.
Daily Herald 8th October 1930
---
Page last updated: 3rd February 2014