Cardington
R101
---
Daily Herald 6th October 1930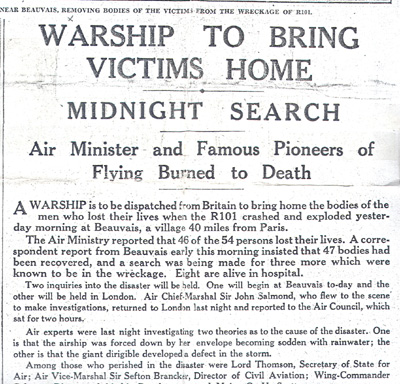 Transcription
WARSHIP TO BRING VICTIMS HOME
MIDNIGHT SEARCH
Air Minister and Famous Pioneers of Flying Burned to Death
A warship is to be dispatched to bring home the bodies of the men who lost their lives when the R101 crashed and exploded yesterday morning at Beauvais, a village 40 miles from Paris.
The Air Ministry reported that 46 of the 54 persons lost their lives. A correspondent report from Beauvais early this morning insisted that 47 bodies had been recovered, and a search was being made for three more which were known to be in the wreckage. Eight are alive in hospital.
Two enquiries into the disaster will be held. One will begin at Beauvais today and the other will be held in London. Air Chief Marshall Sir John Salmond who flew to the scene to make investigations, returned to London last night and reported to the Air Council, which sat for two hours.
Air experts were last night investigating two theories as to the cause of the disaster. One is that the airship was forced down by her envelope becoming sodden with rainwater; the other is that the giant dirigible developed a default in the storm.
Among those who perished in the disaster were Lord Thomson, Secretary of State for Air; Air Vice-Marshall Sir Sefton Brancker, Director of Civil Aviation; Wing-Commander Colmore, Director of Airship Development, and Major G.H.Scott.
Daily Herald 6th October 1930
---
Page last updated: 3rd February 2014