Cardington
R101
---
Daily Express 8th October 1930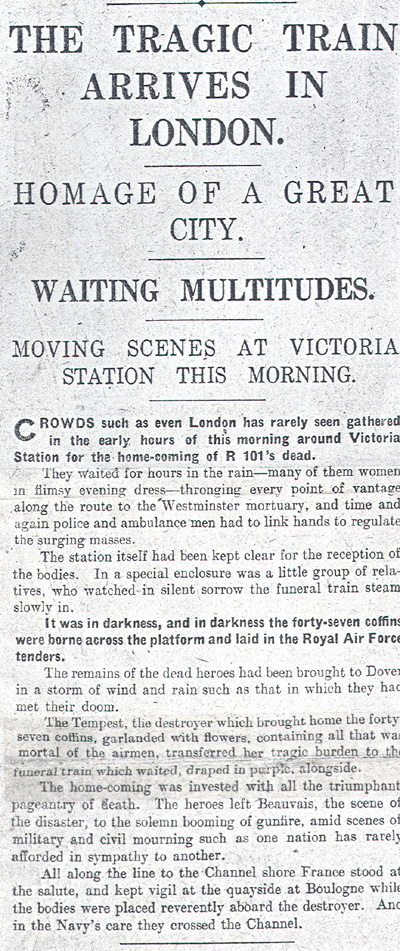 Transcription
THE TRAGIC TRAIN ARRIVES IN LONDON
HOMAGE OF A GREAT CITY
WAITING MULTITUDES
MOVING SCENES AT VICTORIA STATION THIS MORNING
Crowds such as even London has rarely seen gathered in the early hours of this morning around Victoria Station for the home-coming of R101s dead.
They waited for hours in the rainmany of them women in flimsy evening dressthronging every point of vantage along the route to the Westminster mortuary, and time and again police and ambulance men had to link hands to regulate the surging masses.
The station itself had been kept clear for the reception of the bodies. In a special enclosure was a little group of relatives, who watched in silent sorrow the funeral train steam slowly in.
It was in darkness, and in darkness the forty-seven coffins were born across the platform and laid in the Royal Air Force tenders.
The remains of the dead heroes had been brought to Dover in a storm of wind and rain such as that in which they had met their doom.
The Tempest, the destroyer which brought home the forty-seven coffins, garland with flowers, containing all that was mortal of the airmen, transferred her tragic burden to the funeral train which waited, draped in purple, alongside.
The home-coming was invested with all the triumphant pageantry of death. The heroes left Beauvais, the scene of the disaster, to the solemn booming of gunfire, amid scenes of military and civil mourning as one nation has rarely afforded in sympathy to another.
All along the line to the Channel shore of France stood at the salute, and kept vigil at the quayside at Boulogne while the bodies were placed reverently aboard the destroyer. And in the Navys care they crossed the Channel.
Daily Express Wednesday October 8th 1930
---
Page last updated: 3rd February 2014