Cardington
R101
---
Daily Express 7th October 1930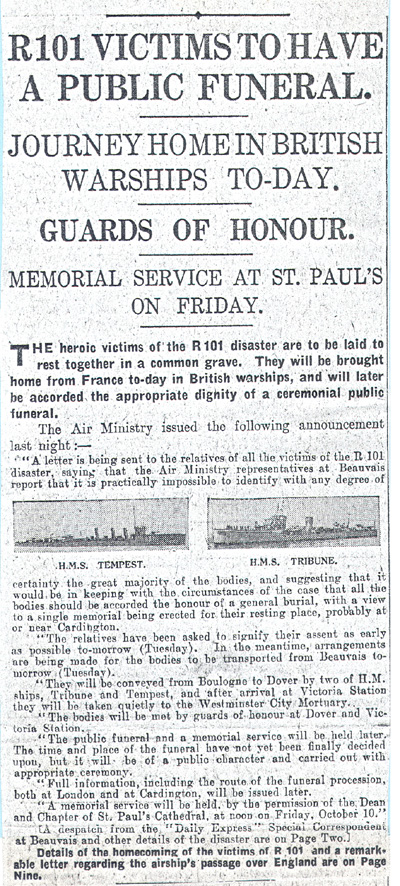 Transcription
R101 VICTIMS TO HAVE A PUBLIC FUNERAL
JOURNEY HOME IN BRITISH WARSHIPS TO-DAY
GUARDS OF HONOUR
MEMORIAL SERVICE AT ST.PAULS ON FRIDAY
The heroic victims of the R101 disaster are to be laid to rest together in a common grave. They will be brought home from France to-day in British warships, and will later be accorded the appropriate dignity of a ceremonial public funeral.
The Air Ministry issued the following announcement last night :-
"A letter is being sent to the relatives of all the victims of the R101 disaster, saying that the Air Ministry representatives at Beauvais report that it is practically impossible to identify with any degree of certainty the great majority of the bodies, and suggesting that it would be in keeping with the circumstances of the case that all the bodies should be accorded the honour of a general burial, with a view to a single memorial being erected for their resting place, probably at or near Cardington.
The relatives have been asked to signify their assent as early as possible to-morrow (Tuesday). In the meantime, arrangements are being made for the bodies to be transported from Beauvais to-morrow (Tuesday)
They will be conveyed from Boulogne to Dover by two of H.M. ships, Tribune and Tempest, and after arrival at Victoria Station they will be taken quietly to the Westminster City Mortuary.
The bodies will be met by guards of honour at Dover and Victoria Station.
The public funeral and a memorial service will be held later. The time and place of the funeral have not yet been fully decided upon, but it will be of a public character and carried out with appropriate ceremony.
Full information, including the route of the funeral procession, both at London and Cardington, will be issued later.
A memorial service will be held, by the permission of the Dean and Chapter of St.Paul's Cathedral, at noon on Friday, October 10.
(A dispatch from the "Daily Express" Special Correspondent at Beauvais and other details of the disaster are on Page Two.
Details of the homecoming of the victims of R101 and a remarkable letter regarding the airship's passage over England are on Page Nine.
Daily Express 7th October 1930.
---
Page last updated: 3rd February 2014