Leighton Buzzard
Yesterday's News 1979
---
All the articles referred to in this news summary have been taken from 1979 copies of The Beds and Bucks Observer.
Back copies of the local newspaper, Leighton Buzzard Observer/Beds and Bucks Observer, on microfiche from 1861 to date, can be consulted in the Local Studies section at Leighton Buzzard Library.
---
Fashion
What were we wearing? The tailored look for her...
---
And for him...
A more relaxed style
---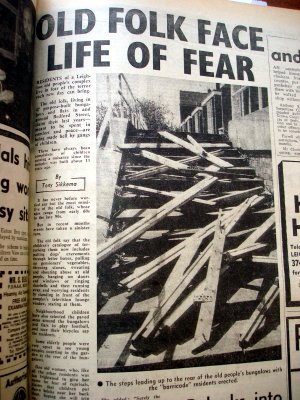 Housing
New fear of house price rises because of shortage of copper piping
Staircase collapses at old people's housing (5th June)
---
Industry
Tanker drivers' strike : bus services cut (9th Jan page 1)
Lorry drivers picket because of new regulations resulting in cuts in working hours (Jan)
Redland (roof tile firm) open state of the art purpose-built Vandyke Works on the old Stonehenge site
---
Library
Opposing views on the planned new library
'Library is a costly dream' (10th July page 5 )
'I am proud this dream has been realised' (17th July page 5)
'Library - yes, dream house - no' (24th July page 4)
'Town Library ready at last' (31st July page 1)
St Andrew's School clock is installed in the library (4th Aug)
30,000 books carried across the road form the old library (5th Aug)
'Computer Age for new town library' (7th Aug)
Public preview of the new library (9th Aug)
The doors to the new library open to the public (10th Aug)
'Library will be a boon to groups' (7th Aug page 4)
'At last a look behind those dark windows' (14th Aug)
'Lord Laughter opens library' (9th Oct)
---
London's third Airport?
The site of the proposed new airport was featured on the front page of the paper at the end of May 1979 and the locals were determined against it.
Campaigners oppose plans for a new airport close to Leighton Buzzard (30th May)
'Long wait for airport ruling?' (9th Oct)
---
New Technology
Cheap and easy colour passport photographs felt like real progress
The most modern design in huge 22 inch televisions
We were all eager to find out more about double glazing and patio doors to bring in light, save energy costs and reduce condensation on the windows
---
Planning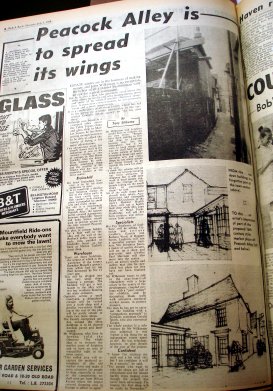 Plans for re-development of the area behind The Peacock were outlined in the paper (3rd July page 6)
---
Red Rum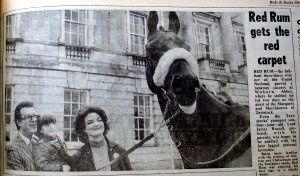 Most famous racehorse pays a visit to Woburn Abbey
---
Motor Cars
We could all see the advantages of the latest 'hatchback' designs.
---
Schools
Fuel shortages cause schools to extend the school holidays (Jan)
Low numbers at Eggington School put it at risk of closure
---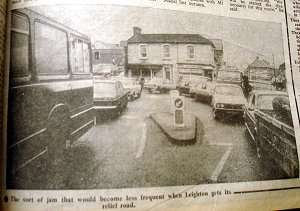 Traffic
Residents of Leighton Buzzard were already complaining about the volume of traffic
It was uncertain when the bypass would be built
'Deputation takes new plan to Whitehall' (11th Sept)
---
Transcendental Meditation
Mentmore Towers becomes the most advanced Transcendental Meditation Lab. (Jan)
---
Weather
Extreme cold and heavy snowfall cause chaos (Jan 9th)
Grand Union Canal iced over (23rd Jan)
Torrential rain hits the area. (3rd April)
---
Page last updated: 3rd February 2014