Bedford Highlanders
Where Did They Come From, and Why?
---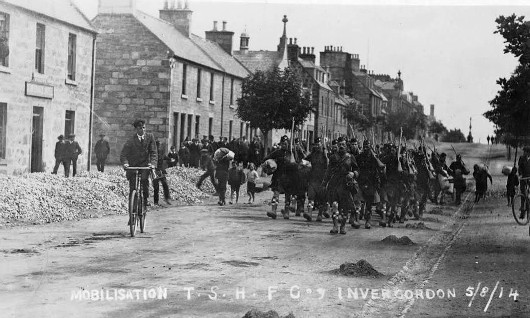 When War was declared the majority of Territorial Force units were either on their annual Summer Camp, or had just finished. They were recalled to their home depots where final preparations were made for the move South.
This photograph shows 'F'Company (Invergordon) of the 4th Seaforth Highlanders marching to Invergordon railway station the day after war was declared, led by company commander, Captain Forsyth. The company was on its way to Nigg where it would join the remainder of the Battalion before moving en masse to Inverness prior to journeying south to Bedford (photo courtesy of Mrs Joan Ross, Alness Heritage Centre). Capt Forsyth survived the war.
Over the short period of the 16th to the 18th of August 1914, approximately 17,000 Highland soldiers made the journey from Scotland to Bedford. 67 troop trains were allocated for the purpose and the average travelling time was 18 hours. It was a long, tedious and very uncomfortable ride for the men who made it. It wasn't just the men who had to be moved, but all their equipment, weapons, wagons, horses and all the other assorted paraphernalia associated with an Army division at that time.
It is said that in Bedford rumour had it that the Russians were coming. This rumour apparently started when someone was speaking to the soldiers on one of the trains when it was stopped in a station somewhere in the Midlands. "Where are you from?" was the enquiry. "Ross-shire"was the heavily accented reply, which was mis-translated by the recipient as 'Russia'.
It is worth noting that many of the men who came to Bedford from the more remote areas of the Highlands and Islands were Gaelic speakers first and foremost.
---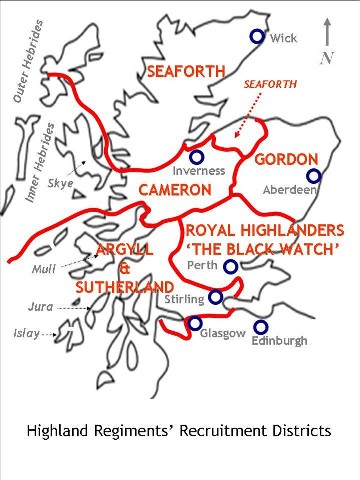 This map shows the traditional recruiting districts for the Highland Division's Scottish infantry regiments while it was in Bedford from August 1914 to May 1915.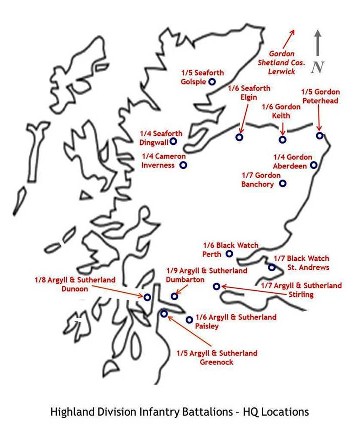 This map shows the home locations for each of the Highland Division's infantry battalions.
---
Page last updated: 15th July 2014