Bedford Highlanders
In the Studio
---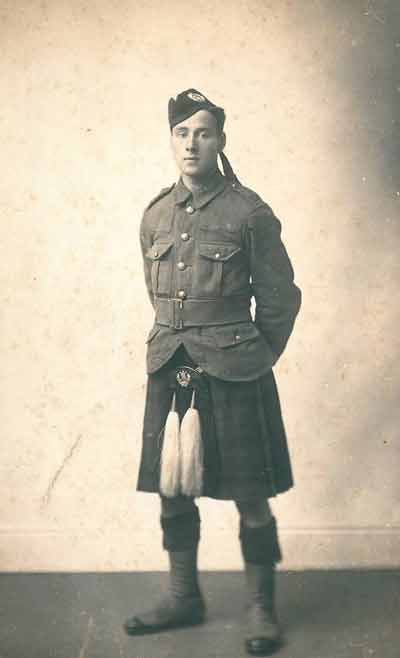 Identified only as 'Tommy' this 4th Cameron Highlander was photographed in the studio of Donald Lindley, 99 Tavistock Street Bedford. It is likely that Tommy was a London man, who was recruited by the Highland Division's Seaforth and Cameron Brigade during its highly successful venture into the capital in the autumn of 1914.
The message on the reverse of the card reads:
"Dear everybody,
This is me – in case you don't know.
Many thanks to Dolly for the cakes she sent. They were simply ripping. All went in no time.
We are under orders to be ready at short notice to quit. Awful rot isn't it?
Love to all,
Tommy."
(Bedford and Luton Archives and Records Service).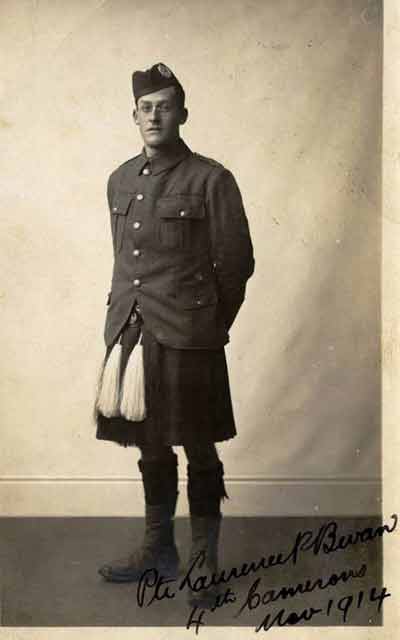 Private Laurence P Bevan 4th Cameron Highlander, November 1914.
(photo: courtesy of Richard Galley)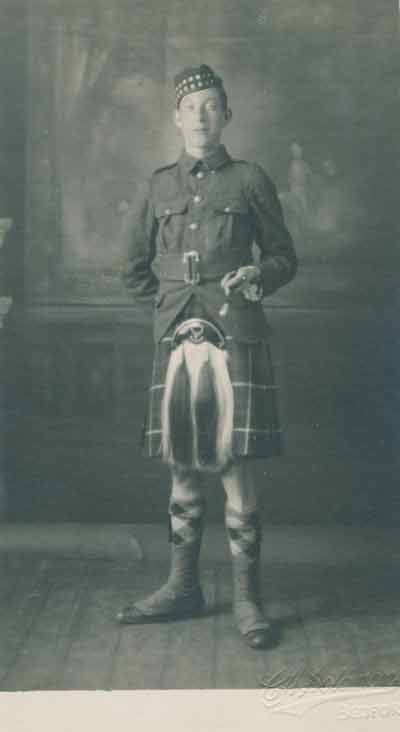 Private Louis Holiday, 4th Seaforth Highlanders, photographed by C. A. Solomons, Bedford.
Holiday was later commissioned into the Machine Gun Corps and survived the war.
(photo: courtesy of Richard Galley)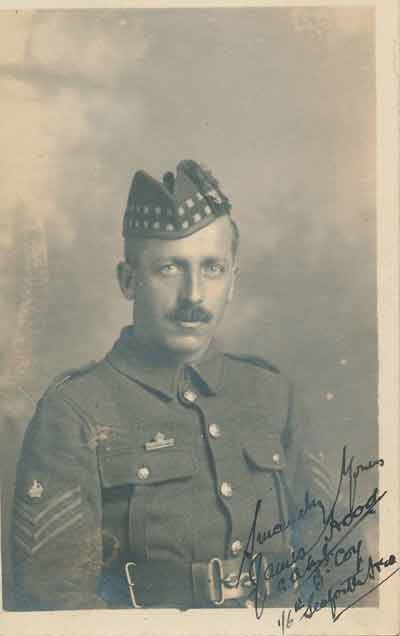 Company Quartermaster Sergeant (CQMS) James Hood, 'B' Company, 1/6th Seaforth Highlanders. Photographed by Donald Lindley of 99, Tavistock Street Bedford. Note the Imperial Service badge above his breast pocket. This badge indicated that the wearer had volunteered to serve overseas in time of war, something that a Territorial Force soldier could not be required to do prior to and in the first months of the War.
The message on the back of the photo reads,
"Leaving today to join Expeditionary Force,
James Hood,
Bedford 1 May 1915"
(photo: courtesy of Richard Galley)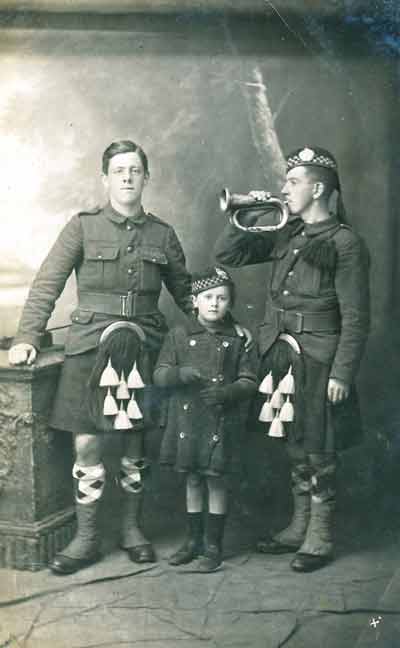 Argyll and Sutherland Highlanders photographed by J.T. Welch of 6, Midland Road, Bedford.
The men's names and their relationship to the small boy are not known. However, given the close bonds that were forged between the soldiers and the families they lived with it is likely that the small boy is their hosts' son.
(photo: courtesy of Richard Galley)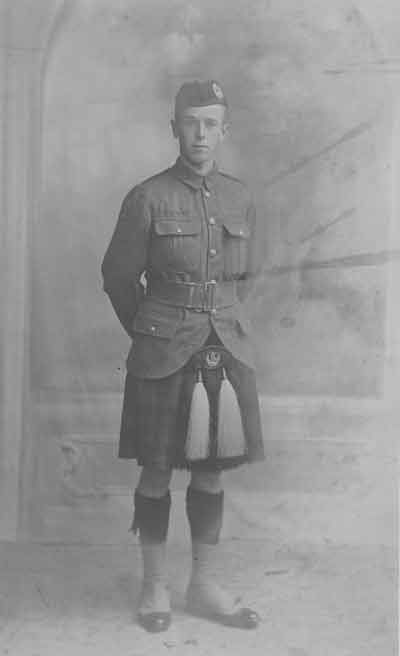 An unnamed member of the 4th Cameron Highlanders photographed by Sweetlands of Bedford, sometime between August 1914 and February 1915.
(photo: courtesy of Richard Galley)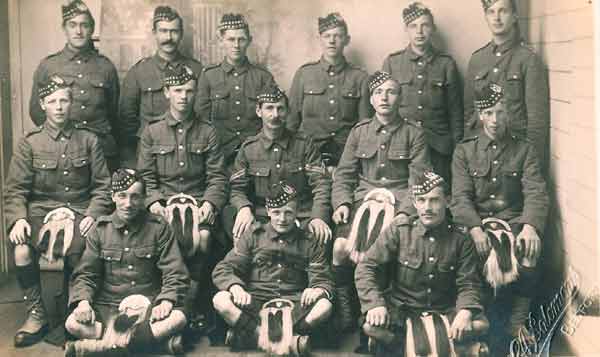 A group of men belonging to the 5th Battalion Gordon Highlanders photographed by C.A. Solomons, Bedford.
(photo: courtesy of Richard Galley)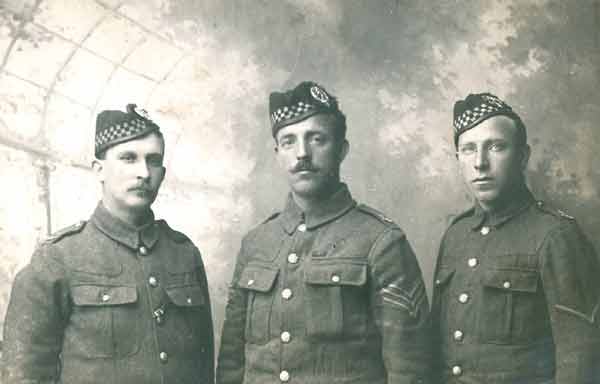 Sergeant McKay (centre) of 'A' Company, 5th Seaforth Highlanders photographed with two fellow members of the battalion by Donald Lindley, Bedford
(photo: courtesy of Richard Galley)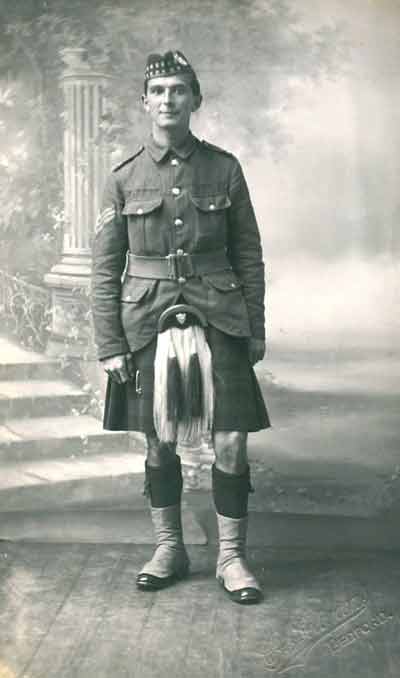 Sergeant H Brooks, Gordon Highlanders photographed by C. A. Solomons, Bedford and dated 25th October 1914.
(photo: courtesy of Richard Galley)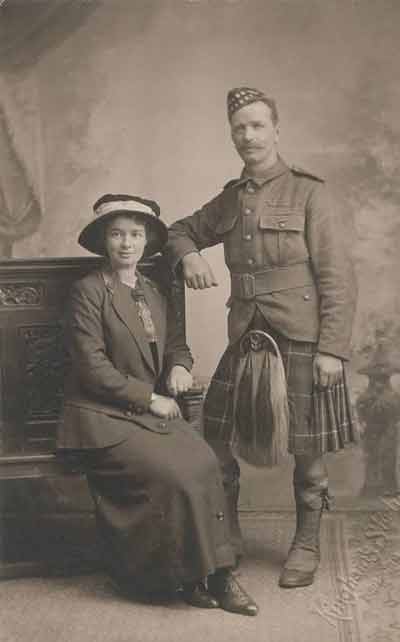 Unknown Seaforth Highlander and companion photographed by Kinghams Studio, Bedford.
"The short stretch of river by the Embankment Hotel was like a seaside esplanade, where every kilted visitor had seemingly found his local girl; and paraded with her, oblivious of the sidelong glances of the gallant woman's league, who occasionally, from mistaken motives, endeavoured to discourage exhibitions of affection between man and wife. For among our 17,000 many were married"
'Behind the Lines'; Col W.N. Nicholson, CMG, DSO – Jonathan Cape Ltd 1939
Military weddings became common place during the Division's time in the town, with Scottish lassies travelling south to marry, before their fiancés went to war. However, several Bedford girls also married men from the division before its departure.
"In the evenings we punted on the Ouse, or when feeling romantic – for the harvest moon was full – played the part of kilted Romeos to the Bedford Juliets".
'Students Under Arms', Alex Rule, MC, MA; Aberdeen University Press 1934
(photo: courtesy of Richard Galley)
---
Page last updated: 15th July 2014