Bedford
Cinema History
---
Annie Blake (neé Chase) 1848-1928 award winning photographer
---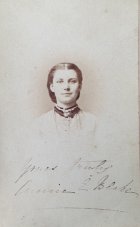 Ann Eliza Chase (known as Annie for much of her life) was born in Westminster in 1848 according to the 1911 census. Her parents were Norman Henry Chase and his wife Eliza Cooper Reason who had married in June 1848 when Eliza was already pregnant with Annie. The marriage certificate records Eliza as the daughter of John Reason, carpenter, and Norman, a stone carver, as the son of Nicolas Chase, who had also been a stone carver. Eliza died during or soon after Annie's birth and Norman only two years later. The orphaned Annie appears in both the 1851 and 1861 censuses as living with her maternal grandparents in Wandsworth. In 1867 aged 19 Annie married William Blake in Bury St Edmunds where he was employed by a photographic business. It is not known how Annie met William but letters (in the possession of a family descendant) written whilst they were both living in London, from her to William and postmarked Surbiton, show the development of their relationship over a lengthy period with the tone gradually becoming more intimate. Their eldest daughter Anne Maude Blake was born in Bury St Edmunds in 1869 and soon afterwards the family moved to Bedford where in 1870, their eldest son William Norman (known as Willie or Bill) was born. William opened his own photographic business called Blake and Edgar at 32 Midland Road, since re-numbered 74, opposite St Joseph's RC Church. Their daughter Minnie Florence was born in 1872.
The Bedford Directory of 1897 lists the business as still in Midland Road but the 1898 Directory shows William had moved the business to 38 High Street, next door to the Bedfordshire Mercury office at 40 High Street. He took over the latter premises some time in 1899 or 1900 (both are now part of Debenhams) and the 1901 Census shows the family living there. Annie was now aged 52 and in addition to eldest daughter Anne Maud aged 32 there were three more daughters: Edith M. aged 23; Ada D. aged 16 and Gladys M. aged 9. Minnie Florence is no longer listed, she had married in 1896. At that time the only son listed is Ernest Edgar aged 21, occupation photographer. Their eldest son William Norman, had married and left home. By this time Blake and Edgar appear to have become the most prominent photographic business in Bedford, as evidenced by the reproduction of their photographs of the town and environs in various published guides. The two sons, in competition with the Chetham cousins, were pioneers of cinematography provision in the town.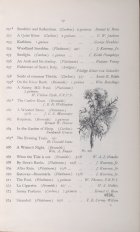 Whilst the family and the business were growing, Annie Blake became a keen photographer. It is so far not known whether she contributed to the rich Blake and Edgar archive of historic photographs of Bedford, I suspect not as her interest was plants and flowers rather than scenes, but it is known that she became regarded as a photographer in her own right. An article in The Bedfordshire Times 5th October 1956 p.10 by Touchstone (pseudonym of journalist C. C. Carter) about Ernest Blake, who was at that time preparing to hold an exhibition Sixty Years of Photography, reports that his mother Annie 'specialised in the photography of flowers and was a regular exhibitor at the exhibitions of the Royal Photographic Society…At the World's Fair in Chicago of 1893 … her picture was singled out for the gold medal of the Exhibition'. A certificate, in the possession of a family descendant, shows that her work was shown in New York as well. The Royal Photographic Society (RPS) has confirmed that Annie was elected a member on 8th November 1898, and her name appears in the Exhibition catalogues of 1898 (No. 130 Iris – Flower Study), 1899 and 1900. After that date records are incomplete so we do not know the length of her membership. The 1899 44th Annual Exhibition Catalogue of the RPS lists four of Annie's photographs: No. 100 White Carnations; No. 343 Seeds of the Dandelion; No. 151 Willow Palm; and No. 258 Seeds of Common Thistle which has an ethereal, painterly quality. Its sale price was 35/-, an amount equivalent to about £100 in 2013. It also features in the Review pages of 1899, p.99 A167 showing where it was displayed with other framed photographs. At least seven other female photographers' works are listed in the catalogue. Presumably Annie was able to use the Blake and Edgar photographic business facilities to develop and print her work.
In his 1956 interview with Touchstone, Ernest credited his mother Annie for inspiring his and his brother's cinematography careers. At the end of 1896 Annie had returned from a visit to London and told them, 'they had got to take up this new cinematograph business. Your lantern lecture slides are out of date. People will want to see "living pictures".' How right she was!
Despite her achievements, Annie Blake does not feature in lists of early women photographers and the current Director-General of the Royal Photographic Society, Dr Michael Pritchard FRPS, has confirmed that little detail is known about them. There appears to be no evidence that her achievements were reported in the local press in Bedford during her lifetime. I can find no record in sailing passenger lists of her having travelled to Paris or to America to receive her awards in person. I find it interesting that Annie, with her large family, managed to pursue her own interests to such an extent. But with two of her five daughters by this time now fully adult and still living at home with no occupation shown, as well as the thriving business making live-in domestic help affordable, she probably had plenty of free time. Was it Annie's wish to avoid publicity and confine news of her prizes within the family? We know that Annie travelled to London, presumably by train, and probably to the RPS premises there, and that she had witnessed early cinema productions; it does not seem she was shy and retiring, but she may have been modest.
The earliest meetings of Bedford Camera Club prior to its formal constitution took place at Blake and Edgar's High Street premises but there is no evidence from that Club's records of the era that Annie attended any of their meetings as a lady guest, or that her work was ever referred to. 1. Whilst the Blake brothers are listed in the early records, the Club was of course for amateur photographers and with her record of achievement and membership of The Royal Photographic Society, Annie would have been justified in perceiving herself as a professional although her work was never shown in the General Professional Photography category of the RPS exhibitions. The Club hosted presentations from various male photographers and records show that although allowed as guests, women had a long campaign for admission to membership. Attempts in 1921 and 1923 failed and they were finally admitted in 1926, by which time Annie was nearing the end of her long life.

On the evidence so far retrieved, Annie Blake received more publicity after her death than during her life. Her death aged 81 on Boxing Day afternoon 1928, at 38 High Street, Bedford was recorded in The Bedfordshire Times and Independent of Friday 28th December 1928, 'In middle life Mrs Blake was one of the foremost of pictorial photographic workers in Great Britain. She won many gold and silver medallions at exhibitions in Great Britain, and her works were exhibited by The Royal Photographic Society at the International Expositions held at Paris and St. Louis. At the latter (known as 'The World's Fair') and at the Paris Exhibition her work was awarded the Grand Prix. This offers a tantalising glimpse of her achievements. There are still more details which need to be discovered.
Annie's burial service took place in the chapel of Bedford Cemetery in Foster Hill Road in early January 1929 and was reported in The Bedford Record and The Bedfordshire Times and Independent of 4th January. During the passing of the cortege 'many High Street shop-blinds were drawn, an action much appreciated by the family.' Both accounts list the family mourners, the first also including transcriptions of messages accompanying floral tributes from the family. Traders included Mr and Mrs Laxton, Mr Simms and staff, Empire Cinema and the manager and staff, Bedford Palace Ltd. There is no mention of members of the Chetham family, competing cinema owners, having attended the ceremony. Was the relationship between the two families cordial or cut throat? The funeral was arranged by Messrs Charles Negus of Bedford. The coffin was English oak with brass fittings and the grave was lined with evergreen and yellow chrysanthemums - a fitting floral tribute to a woman who had specialised in photographing plant life.
Annie Blake's will confirms that she had continued living at 38 and 40 Bedford High Street after William's death in June 1912. Probate was granted to her two unmarried daughters Edith Mabel Blake and Gladys Marguerite Blake, the executors of the will, on 25th April 1929. She left to these daughters all her household effects together with the photographic business and assets. She bequeathed the remainder of her assets, comprising two freehold houses she owned in Bedford and Kempston, two plots of land in Spring Road, Kempston, and all monies remaining after payment of debts and funeral expenses in equal shares to Edith and Gladys and her three married daughters Anne Maude Drew, Florence Sedcole and Ada Dora Violet Johnson. The gross value of her estate was £3,168. 6s. 7d and the net value £1,790. 3s. 3d, a substantial amount for the time. 2. There is no mention of her two sons in the will. Unless there had been a breakdown in her relationships with them, which seems unlikely as Ernest paid tribute to her in his 1956 interview with Touchstone, it may be surmised that she considered they were prosperous enough not to need an inheritance from her.
Annie Blake remains an enigmatic figure. That she travelled to London, that she submitted her photographs to The Royal Photographic Society and to exhibitions in France and America, suggests that she enjoyed independence, confidence and a sense of her own worth. There is much scope for further research into more details of this 'hidden from history' pioneer female photographer whose husband and sons became so prominent in Bedford. It would be good to see her accorded public recognition as a woman of stature in Bedford's history.
1. Bedfordshire and Luton Archives and Records Service (BARS) Ref. X652/1-13
2. £3000 in 1929 equates to over £148,000 in 2013 and £1,700 to nearly £84,000 in 2013 www.thisismoney.co.uk Historic Inflation calculator.
© Catherine Moorhouse 2013
---
Thanks are due to Annie Blake's descendant Bob Marks for showing us memorabilia relating to Annie Blake and to Martin Nellist of Bedford Camera Club for his assistance.
Annie Blake's will
Bedford Directories at Bedford Heritage Library
Censuses
Articles from local newspapers at Bedford Library (see references in text)
Royal Photographic Society
---
---
Page last updated: 25th February 2014