Bedford
Yesterdays News
1966
---
All the articles referred to in this news summary have been taken from The Bedford Record, which can be consulted in the Local Studies Library at Bedford Central Library.
---
Sport
Bedford Rugby Club player 'Budge' Rogers appointed England captain (4th January).
Bedford Town go down 0-3 at home to first division Everton in the 4th round of the F.A. Cup in front of a record crowd of 18,407 (15th February).
Bedford Rugby Club had three players in the England team to play France in Paris on the 26th February. The three were 'Budge' Rogers, Danny Heard and David Perry (15th February).
---
County Hall
Work stopped on the construction of the new County Hall at Bedford because of doubt over the design of part of the reinforced concrete framework (4th January).
Most of the work already done on the new 1,999,000 will probably have to be demolished because of a design fault (1st February).
County Hall fault is in the design, consulting engineers issue report (1st March).
---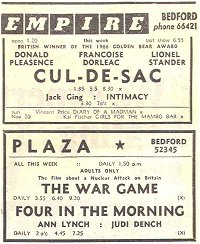 Cinema
The Empire - Norman Wisdom in 'The Early Bird' (4th January).
The Granada - Michael Caine in 'Alfie' (17th May).
The Granada - Sean Connery in 'Thunder Ball' (13th September).
The Plaza - 'The War Game', controversial film about a nuclear attack on Britain (15th November).
---
Leisure
The Court School of Dancing, Midland Road, Monday New Beginners 7.30-10.30 3/6, Saturday Night Out 7.30-11.00 4/6 (11th January).
The Pageant of Bedford under the direction of Dorian Williams, 27th June-2nd July, Bedford Park 7.30pm (28th June).
---
Crime
Permission has been given by the Home Secretary for the remains of James Hanratty who was hanged at Bedford Prison in April 1962 for the A6 murder to be exhumed from the prison ground and buried elsewhere (22nd February).
---
Elections
Brian Parkyn won the Bedford seat for Labour defeating the Conservative candidate Christopher Soames who had held the seat for the Conservatives for 16 years by 22,257 to 21,879 a majority of 378 (5th April).
---
Music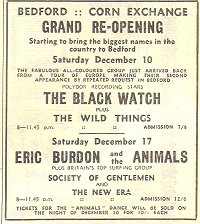 Eric Burdon and The Animals, at the Corn Exchange, Saturday 17th December, tickets 12/6 (6th December).
Sir Adrian Boult and Philomusica of London, 14th March, Corn Exchange as part of the Borough of Bedford Charter Celebrations (1st March).
Bedford's Top Three Records - 1 '19th Nervous Breakdown' Rolling Stones, 2 'These Boots were Made for Walking' Nancy Sinatra, 3 'A Groovy Kind of Love' The Mindbenders (1st March).
The Kinks, Bedford Drill Hall, Saturday 2nd April, tickets 10/- (29th March).
Bedford's Top Three Records - 1 'With a Girl Like You' The Troggs, 2 'Yellow Submarine' The Beetles, 3 'God Only Knows' The Beach Boys (16th August) .
---
Household
Longhurst & Skinner, Midland Road, G Plan Dining Room Suite 100, Teenager's Bedroom Suite 29.19.6, Bedside Cabinets 65/-, Fireside Chairs 5.10.0 (11th January).
Bedford Co-operative, Midland Road, Defiant Radiogram 30 (18th January).
Bedford Co-operative, Midland Road, Hoovermatic Washing Machine 78.15.0. (25th January).
Williams, 18 Greenhill Street, Fitted Wardrobe 12gns. (15th November).
---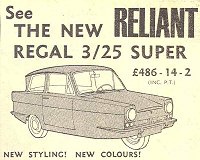 Motor Cars
Kennings, Bromham Road 1962 Vauxhall Victor 445. (1st March).
Elstow Road Motors 1962 Morris Oxford 410 (12th July).
Kennings, Bromham Road 1965 Ford Anglia Saloon (23rd August).
---
Howard Street
Cottages in Howard Street demolished to make way for multi storey car park (19th April).
---
Libraries
Plans for a new public library on the site of St. Paul's Methodist Church, Harpur Street.(20th September).
---
Food
Safeways, Greyfriars Baked Beans, 15oz tin 9d, Conflakes 12oz pack 1/6, Safeway tea brand qtr 1/1, Washing Up Liquid 20oz 1/4 (8th November).
Kemp Cream Crackers 9d a packet, Marmalade 1/3 a jar, Ambrosia Creamed Rice 10d a tin, Consumers Tea Co., 27a Castle Road. (3rd May).
---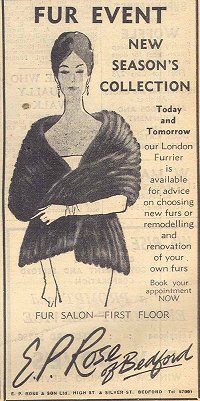 Clothes
Society Blazer in all wool Barathea, navy or black 7.7.0, Bedford Co-Operative, Midland Road (5th April).
Swiss Terylene Lawn Dress 16gns, Canadian Ermine Coat 460, Wolsey Lambswool S.S.Jumper 42/-, Dusts, St. Loyes (5th July).
Ladies' Acrilan Cardigan 47/6, Girls'striped jeans 9/11, Boys' continental shirts 9/11, Men's sports shirts long sleeves 29/11, Durant's, Ford End Road (12th July).
---
Housing
Three bed-roomed, semi detached, double garage, large garden, fully fitted kitchen, Heronscroft, Putnoe, 4,495 (5th April).
Terraced villa with passage entrance, hall, front room, living room, breakfast room, kitchen, 3 bedrooms, George Street, 1,900 (26th June).
Detached, full gas fired central heating, 3 bedrooms, sep w.c. lounge, brick garage, conservatory, good garden, Spring Road, Kempston, 5,950 (11th October).
---
Page last updated: 22nd January 2014