What Katy Did Activity Sheet
Chatterbooks in Lockdown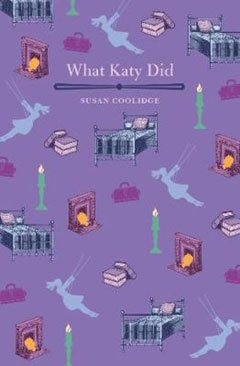 Written in 1872, "What Katy Did" is the first of three 'Katy' books written by American author, Susan Coolidge. The main character is 12-year-old Katy Carr, a bright, headstrong, messy tomboy. Hopefully you enjoyed the book, but just how well did you read it? Try this short quiz and see!
Not read it yet? Read What Katy Did now.
How many children are there in the Carr family...and can you name them all?
Where did the Carr family live? (town, state and country)
What is the role of Aunt Izzie in the family?
Where and what was "Paradise"?
Katy dreams of doing "something good" with her life. Can you name any of her ideas?
What is different about cousin Helen?
What happens to Katy when she ignores Aunt Izzie and goes to play on the swing?
What sorts of lessons does cousin Helen suggest Katy will learn in the "School of Pain"?
Why is it necessary for Katy to become the "heart of the house"?
What miraculous event happens to Katy at the end of the book?
My Top Ten
In a 1995 survey, "What Katy Did" was voted one of the top 10 books for 12-year-old girls. Having read the book, would you agree?
Could you make a list of your top ten favourite books giving reasons for your choices?
Changing Attitudes
The "Katy" books were written in the 1870s and are considered to be children's 'Classics'. Despite being nearly 150 years old, the language and style of the books are not obstacles to the enjoyment of the stories. However, some of the attitudes and ways of thinking portrayed in the books are very much of the time in which they were written and, to a modern reader, may seem rather dated. Referring back to the book, what are the author's attitudes to the following?
The role of women in society
What were considered to be virtues (good qualities) in women
Disabled people
Calling All Jacqueline Wilson Fans
Dame Jacqueline Wilson loved the "Katy" stories as a child, but recognised that some attitudes in them were dated. So, she wrote a modern version of the story for the 21st century. It is called "Katy". If you get a chance, try reading it and comparing it to the original. You will find there are many similarities (Katy is the eldest child, a tomboy with messy hair and gangly arms and legs who has a very serious accident) but there are also some differences. The main difference is the emphasis Jacqueline Wilson places on realism. What do you understand by this?
Jacqueline Wilson considers:
Living with a disability
Overcoming adversity (difficulty) including people's attitudes to disabled people
Understanding that in real life, there are no miracle cures
In "What Katy Did", how does Katy make the best of her situation? What sort of person does she learn to become? Now compare this with how the Katy in Jacqueline Wilson's book deals with the situation. Which way of thinking do you believe is better, and why?
Weird and Wonderful Meals
"Dinnertime became quite exciting, when nobody could tell what any dish on the table was made of." ("What Katy Did" chapter 11)
After Aunt Izzie is no longer there to do the cooking, Katy takes over the role with some 'interesting' results! Even Phil and Dorry, who were always hungry, did not really fancy Katy's recipe of a gallon of oysters in beef stock, lemon and herbs, with soda crackers on the side!
Could you do better?
Devise a meal that a large 1870s American family might enjoy.
Remember you are limited by what might have been available at the time. There were no fridges and freezers, so food had to be preserved by smoking, salting or drying. Transportation was limited, so most Americans ate what they grew/ reared locally. To help you, here are some of the foodstuffs you might have found in the Carr store cupboard. Look up those foods, you haven't heard of.
Rice – buckwheat – molasses – corn – beans – cornbread – hog meat – jellies – preserves – yams – oysters – turkey – beef – pumpkins – pickled vegetables – herbs and spices - fruit
Present your menu – at least 2 courses – on a separate piece of paper. Give your dishes names – the funnier the better!
Here are mine:
Hog log with pickled pumpkin puree and yummy yam jam
Gill's gorgeous juniper jelly with quince quenelles
You could even have a go at drawing a picture of the culinary delights you have invented!
How many children are there in the Carr family...and can you name them all? 6 children (Katy, Clover, Elsie, Joanna (Johnnie), Dorry, Phil)
Where did the Carr family live? (town, state and country) Burnet, Ohio, USA
What is the role of Aunt Izzie in the family? She looks after the house and family after the death of the children's mother.
Where and what was "Paradise"? A "marshy thicket" at the bottom of the garden where the children built an imaginary world.
Katy dreams of doing "something good" with her life. Can you name any of her ideas? Painting famous pictures, saving the lives of drowning people, leading a crusade on a white horse.
What is different about cousin Helen? She is a bedridden disabled person
What happens to Katy when she ignores Aunt Izzie and goes to play on the swing? It is faulty, it breaks, Katy falls and damages her spine
What sorts of lessons does cousin Helen suggest Katy will learn in the "School of Pain"? Patience, cheerfulness, hopefulness, neatness and making the best of things
Why is it necessary for Katy to become the "heart of the house"? Because Aunt Izzie dies and someone needs to be responsible for looking after the family
What miraculous event happens to Katy at the end of the book? She is able to walk again
---
Page last updated: 7th September 2020