Mary Poppins Activity Sheet
Chatterbooks in Lockdown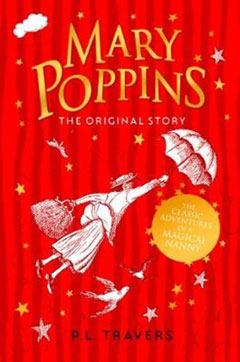 I am guessing you have seen the famous Walt Disney film of "Mary Poppins" made in 1964 and starring Julie Andrews. It was based on a series of books by P.L. Travers written some 30 years earlier. Further films have followed, and both the books and the films have a unique magical quality about them. Hopefully you enjoyed reading this book, as much as you enjoyed watching the films, but just how well did you read it? Try this quiz and find out.
Not read it yet? Read Mary Poppins now.
For how long does Mary Poppins say she will stay at Number Seventeen Cherry Tree Lane?
What are the names of the Banks family's baby twins?
Where does Mr Banks work?
What are Bert's 2 jobs as described in the book? (What different job does he have in the film?)
Who laughs so much on his birthday that he floats up in the air?
Who was Miss Lark's 'Andrew'?
What does Mary's compass do?
What type of bag does Mary Poppins have and what does she have inside it?
What words does the Bird Woman repeat?
What does Mary buy from Mrs Corry's shop?
What do we learn about the twins in Chapter 9? When will they lose this skill?
Who is Maia, who Jane and Peter meet in the Toy department?
Advertising for a Nanny
At the start of the book, the Banks family need a new Nanny for the 4 children, as the previous Nanny, Katie Nanna, had left "Without a by your leave or word of warning". Mr Banks suggested putting an advert in the 'Morning Paper' for "the best possible Nannie at the lowest possible wage and at once".
Could you design an advert to go in the paper? You should include details of:
Details of the children the Nanny will be required to look after, including their ages
What qualities and personality the Nanny should possess
Hours and location of the job and whether they will be required to 'live in'
A brief job description, including any specific activities the Nanny will be required to undertake
How to apply for the job, including whether you wish to take up references.
(A reference is a letter written by someone who knows you, to say if you are suitable for the job. Mary said she never gave references!)
Would you have liked to have had Mary Poppins as your nanny/child minder? If were asked to write a reference for her next employer, what would you say?
Getting out the wrong side of the bed
On a Tuesday, Michael Banks woke up knowing he was "going to be naughty". Can you recall some of the bad things he did on that day? Have you ever had a day like that when you "got out on the wrong side of the bed" and were in a bad mood all day? Try writing a diary entry for the day. Include:
How you knew your day was going to be a bad one
If there was a particular reason you woke in a bad mood
Details of the things that went wrong during the day and how you felt about them
Whether your mood resolved itself by the end of the day – and if so, how?
Whether there were any lasting repercussions (eg. if you fell out with a friend over your mood)
Stepping into the picture
Bert drew lovely chalk pavement pictures, including scenes of beautiful countryside that he and Mary "stepped into" for a fun, exciting day out. Use your imagination to:
Draw a countryside scene of your own – the more vibrant and colourful the better
Give your picture a title – it can be as imaginative as you like
Describe what adventures you might have if you were able to "step inside" it
Who you might have met on your adventures – eccentric characters are a must!
Be as descriptive as possible about your scene, including sights, smells, sounds
Wacky Words
I loved all the songs in the Walt Disney film of "Mary Poppins" and my absolute favourite is:"Supercalifragilisticexpialidocious"
First of all, can you actually say the word? Have a practise, then:
Do you think this is a real word that could be found in the dictionary?
The song says it is, "the biggest word you ever heard". Is this true? How many letters does it have? Can you think of any words that have more letters?
What do you think it means?
How many words of 3 letters or more could you make from the word supercalifragilisticexpialidocious?
Write it out in big letters on a piece of paper and have a go.
For how long does Mary Poppins say she will stay at Number Seventeen Cherry Tree Lane? Till the wind changes
What are the names of the Banks family's baby twins? John and Barbara
Where does Mr Banks work? In a bank in the city
What are Bert's 2 jobs as described in the book? (What different job does he have in the film?) Match seller and pavement artist (in the film, he is a chimney sweep)
Who laughs so much on his birthday that he floats up in the air? Mr Wigg
Who was Miss Lark's 'Andrew'? A dog
What does Mary's compass do? Takes the children around the world
What type of bag does Mary Poppins have and what does she have inside it? A carpet bag containing a seemingly endless amount of possessions
What words does the Bird Woman repeat? "feed the birds, tuppence a bag"
What does Mary buy from Mrs Corry's shop? Gingerbread
What do we learn about the twins in Chapter 9? When will they lose this skill? They can talk – and have conversations with the sunlight, a starling, the wind and the trees. They lose this skill when they grow teeth
Who is Maia, who Jane and Peter meet in the Toy department? She is a star – one of the 'Pleiades'
---
Page last updated: 2nd September 2020