The Jungle Book Activity Sheet
Chatterbooks in Lockdown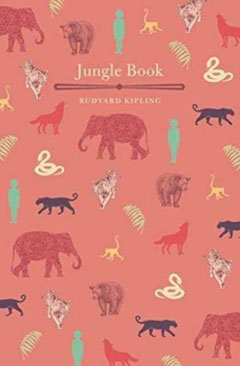 Written in 1894, 'The Jungle Book' is a series of short stories, which together form a fabulous fantasy classic. The first four stories starring Mowgli, the "man cub", are especially popular because of the famous Walt Disney animated film.
Not read it yet? Read Jungle Book now.
But how well did you read it? See if you answer these questions:
In which country are the stories set?
What does the name "Mowgli" actually mean and why was he given this name?
Who is Mowgli's main teacher and what animal is he?
What is the 'red flower' that the animals fear?
Which animals adopt Mowgli and bring him up as one of their own?
Which is the creature that the immoral monkeys (The Bandar-log) fear the most?
Who is Shere Khan and what disability does he have?
How does Shere Khan die?
Why is Kotick the seal different from the other seals?
What sort of animal is Rikki-Tikki-Tavi?
Who does Rikki-Tikki-Tavi eventually defeat and kill?
Who did the elephant Kala Nag work for?
The Jungle Book Characters
In the table below are listed the main animal characters that feature in the first 4 Mowgli stories. When reading, you will probably have noticed that each animal had very distinct and often quite human characteristics. Can you complete the table below stating what animal each named character is, and what their personalities and behaviour are like?
(To help you, I have listed below some adjectives which you could use)
| | | |
| --- | --- | --- |
| Name | Animal | Characteristic |
| Akela | | |
| Baloo | | |
| Baghera | | |
| Kaa | | |
| Shere Khan | | |
| Tabaqui | | |
Nasty - strong - lazy - moral - cunning - bold - wise - fair - feared – loyal respected – mean - intelligent - superior - principled

If you were in the jungle like Mowgli, which animal would you most like to be friends with and why?
Design a New Skin for Kaa
In 'The Jungle Book; Kaa is a rock python who is 30 feet long and more than a hundred years old. When he sheds his skin, it takes 10 days to grow back and then...he is very hungry and ready for action!
Can you design a new patterned skin for Kaa? Remember, he is very proud of his appearance, but also in order to be effective when hunting, he needs to blend in with his jungle surroundings.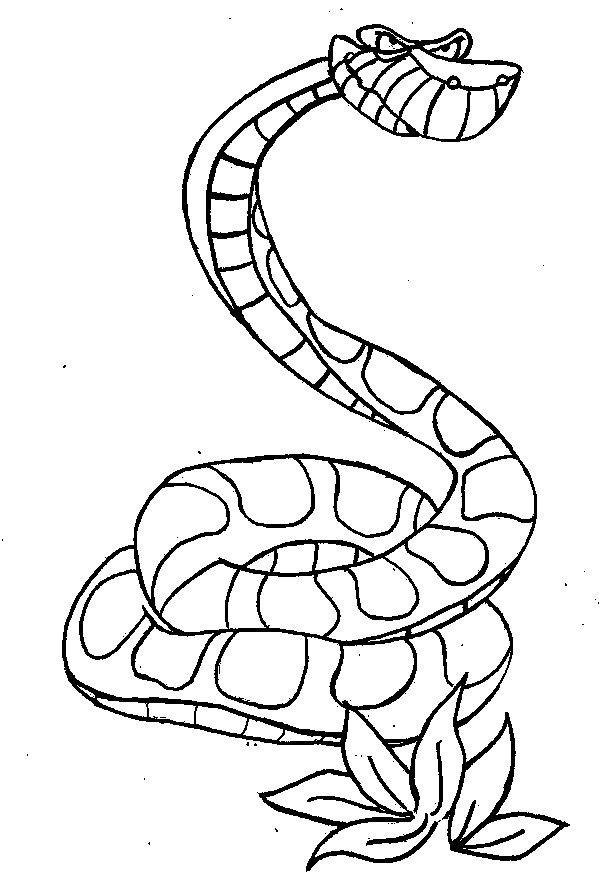 Law of the Jungle
"Now this is the law of the jungle
As old and true as the sky:
And the wolf that shall keep it may prosper
But the wolf that shall break it must die"
This is the beginning of a poem by Kipling. In 'The Jungle Book', he frequently mentions "The Law of the Jungle". What do you understand by this?
Why was the important and can you name any of the laws? Which animals obeyed the laws...and which didn't?
Jungle Book Wordsearch
Can you find all the words to complete the wordsearch?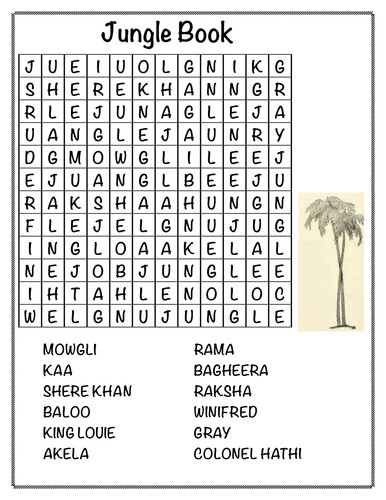 In which country are the stories set? India
What does the name "Mowgli" actually mean and why was he given this name? Frog – because of his lack of fur and refusal to sit still
Who is Mowgli's main teacher and what animal is he? Baloo the bear
What is the 'red flower' that the animals fear? Fire
Which animals adopt Mowgli and bring him up as one of their own? The wolves of the Seeonee pack – Wolf Mother (Rashka) especially loved Mowgli
Which is the creature that the immoral monkeys (The Bandar-log) fear the most? Kaa the rock python
Who is Shere Khan and what disability does he have? The tiger who was lame in one foot
How does Shere Khan die? He is killed by a stampede of cattle
Why is Kotick the seal different from the other seals? He is the only white seal
What sort of animal is Rikki-Tikki-Tavi? A mongoose
Who does Rikki-Tikki-Tavi eventually defeat and kill? Nag and Nagaina, the cobras
Who did the elephant Kala Nag work for? The Indian Government – for 47 years
---
Page last updated: 3rd August 2020