The Boy in the Dress Activity Sheet
Chatterbooks in Lockdown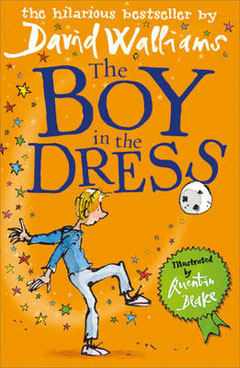 This was David Walliams' first children's book, published in 2008. Its main theme is "difference", encouraging the reader to see that tolerance and freedom make the world a nicer place.
Not read it yet? Read The Boy in the Dress now.
Hopefully you enjoyed the book, but just how well did you read it? Have a go at this quiz and see.

Who looks after Dennis and his brother, John?
In what sport is Dennis the star player?
What is the name of the magazine that Dennis secretly buys?
What is the name of the headmaster at the school attended by Dennis?
What religion is practised by Dennis's friend, Darvesh?
What TV programme does Dennis like to watch every day?
What girl's name does Lisa give to Dennis, when he goes out with her wearing a dress?
How does Dennis upset Madame Windsor?
Who does Raj say he is when Dennis finds him serving in the shop in his wife's green sari?
Who illustrated this book – and whose books is he most famous for illustrating?
Help get Dennis's Dad in shape
Dennis's Dad eats very unhealthily, and as a long-distance lorry driver, he sits down for most of the day, getting little or no exercise. His boys also suffer from their dad being in charge of their diet. Dennis complains of "eating bowls of cereal even when it wasn't breakfast." An overhaul of the Sims family's lifestyle is clearly needed, and it starts with dad.
Can you help?
Devise a healthier diet for Dennis's dad, that will still fill him up and give him lots of energy, but isn't full of sugar and fat. Plan a typical day's menu (breakfast, lunch and dinner) plus snacks. The meals should be easy to prepare and suitable to share with his growing boys.
Devise an exercise plan for him that is easy to incorporate into his working day, doesn't cost much and enables him to spend quality time with his sons.
Design a Kit
Dennis loves playing football and is proud to play for his school team, even though they wear a very boring kit.
Try designing a new kit that would make Dennis happy. It should be "interesting", but not quite as colourful and impractical as the outfits the team wore for the second half of the final when Lisa dressed them! And remember, orange is not really Dennis's colour and he is the star of the team!!
Celebrate Difference
"Dennis was different" is the first sentence of the book. It is easy to say why he was considered to be "different", but Dennis is not the only character of the book who is in some way "different".
List which characters in the book that could be described as "different" and why?
Is there anything about you that makes you feel "different"? (I have a funny accent!!)
Why is difference a good thing? Just think how boring life would be if we were all the same.
What advice would you give to Dennis to make him feel ok about his "difference"?
Is David Walliams the new Roald Dahl?
The author of "The Boy in The Dress", David Walliams, makes no secret of the fact that he is a big fan of Roald Dahl, calling his writing "nearly perfect". If you got question 10 correct, you will know that Quentin Blake, who illustrated all Roald Dahl's books, also illustrated David Walliams' first two books. And the similarities don''t end there.
Below I have outlined 5 other things they have in common. From your knowledge of the books that you have already read by David Walliams (DW) and Roald Dahl (RD) give examples for each.
To help you, I have given my example on the first point.
1. MORALITY – the importance of right and wrong – eg. the battle to choose your own friends.
DW – In "Mr Stink", Chloe befriends a homeless man despite her parents' objections.
RD – In "BFG", Sophie befriends the giant.

2. CHILDREN AS HEROES - the main character is a child who outsmarts the older characters.
DW -
RD –

3. MADE UP LANGUAGE - funny words that sound great to say.
DW –
RD –

4. HUMOUR – childish humour that is funny to adults too.
DW –
RD –

5. MAKING IMPOSSIBLE SITUATIONS REAL – exaggerated flights of fancy to make the story funnier.
DW –
RD –

Dodgy Deals
Raj offers some rather dubious "deals" in his shop, in an effort to get his customers to spend more. Would you really want 9 Kinder eggs for the price of 8? Or 15 bags of ("only slightly out of date") Monster Munch for the price of 13? And when it comes to (unsold Christmas) wrapping paper, Raj really excels himself! He offers Dennis:
3 rolls for the price of 2.
7 rolls for the price of 5.
11 rolls for the price of 9
15 rolls for the price of 13.
If Dennis were daft enough to take Raj up on his "very good offer", if the rolls cost £1 each, which would be the best deal? How did you work it out?
Who looks after Dennis and his brother, John? Their Dad
In what sport is Dennis the star player? Football
What is the name of the magazine that Dennis secretly buys? Vogue
What is the name of the headmaster at the school attended by Dennis? Mr Hawtrey
What religion is practised by Dennis's friend, Darvesh? Sikh
What TV programme does Dennis like to watch every day? "Trisha"
What girl's name does Lisa give to Dennis, when he goes out with her wearing a dress? Denise
How does Dennis upset Madame Windsor? He says that her French accent is very poor
Who does Raj say he is when Dennis finds him serving in the shop in his wife's green sari? Aunt Indira
Who illustrated this book – and whose books is he most famous for illustrating? Quentin Blake, who famously illustrated Roald Dahl's books
(Three for two is the best deal!)
---
Page last updated: 27th July 2020