What is Reading Well for Long Term Conditions?
---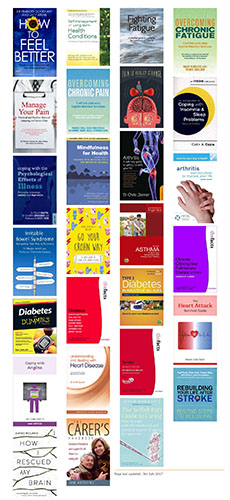 Building on the success of the common mental health conditions booklist list, Reading Well for Long Term Conditions is now available at Bedford Central Library, Kempston Library and all Central Bedfordshire Libraries. The collection offers practical support to help you live well with a long term condition. The books provide information and advice to help you understand and manage selected conditions and common symptoms.
The scheme has been developed by The Reading Agency in partnership with the Society of Chief Librarians. The programme is funded by Arts Council England and the Wellcome Trust.
How does Reading Well for long term conditions work?
Health professionals can use the scheme to recommend helpful reading to those who are affected by long term conditions. The user leaflet contains information about the scheme and the list of recommended reading. Health professionals can recommend books by ticking the titles on the recommended reading list and signing the form. Patients can either take the suggested list to the library to get the books, or they can simply browse the collection and make selections themselves. The collection is available to anyone who has a library card. Joining the library is free and easy to do.
Which long term conditions does it cover?
The 28 titles in the collection have all been recommended by health experts and people living with long term conditions. The selected long term conditions are -
Arthritis
Bowel conditions
Breathing difficulties
Diabetes
Heart disease
Stroke
Fatigue
Pain
Sleep Problems
Mental health and wellbeing
How can the books help?
Some of the books provide helpful information and self-management techniques. There are also personal stories about other people's experiences which may help you to understand your own. You can use the books on your own with the support of a health care professional. The health professionals involved in your treatment can also advise you on the other help and support available.
Can I see the booklist?
You can see the list of books here.
Where can I find out more about the scheme?
Visit the Reading Agency Website or Contact Us to find out more.
---
Page last updated: 6th June 2018