Access to Research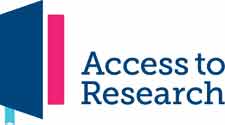 As a library member you can use a fabulous free service offering access to over 10 million academic and scholarly articles.
This service is only available in your local library, not from home.
How does it work?
Visit your local library and use your library card number and PIN to log onto the library computers. You can book your slot on the computer in advance here.
You can:
Search
View articles
Print off one copy only
The process is laid out below:
Once logged on to the library computer opens a web browser
Follow the 'Access to Research' link on the homepage
The Terms and Conditions load – these must be agreed and adhered to.
For the full terms and conditions click here
The Access to Research Search Site loads – you can utilise the large search box, try the Advanced Search option or browse all the journals
Enter your search terms and press Search
A new web browser tab/window opens – entitled with your search terms – listing all the search results and a précis of each
Click on the article you wish to see – a new web browser window/tab opens – this is the journal publishers site. From here you can read an abstract of the article and if you wish to continue you can print off one copy only – downloading or saving the article breaches the terms and conditions and copyright of the article.
To view another article return to the 'search term entitled' browser window/tab.
To run a new search return to the browser window/tab entitled 'Public Library Initiative by PLS'.
Terms and Conditions
A: I will only use the publications accessed through this search for my own personal, e.g. non-commercial research and private study
B: I will only gain access to the publications accessible through this search via the password protected Secure Network of the Library on Library Premises;
C: I will not build any repository or other archive using the publications accessed through this search;
D: I will not download onto disc, CD or USB memory sticks or other portable devices or otherwise save, any publications accessed through this search;
E: I will not, forward, distribute, sell or share any publications accessed through this search with any third party, or post the same on any external or public network;
F: I will not adapt, modify, transform or translate any publications accessed through this search;
G: I will not make more than one copy of any publication accessed through this search and I will not remove any attributions and copyright notices from such copy;
H: I will not modify, remove, circumvent or otherwise interfere with any digital rights information;
I: I will not allow the making of any derivative works from any of the publications accessed through this search;
J: I will not copy otherwise retain, store or divert any of the publications accessed through this search onto my own personal systems; and
K: I agree not to rely on the publications accessed through this search as a substitute for specific medical, professional or expert advice.
If you have any questions about this service please Contact Us.
---
Page last updated: 16th January 2016