Dunstable
Norman King
---
The Old Palace Lodge (Norman King) by Joan Curran
First published in the Dunstable & District
Local History Society Newsletter March 1977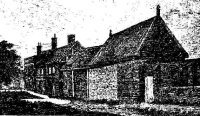 The picture above appeared in the Gentleman's Magazine in 1816 and shows the Old Palace Lodge as it was then. At that time it was the house belonging to Kingsbury Farm, which consisted of 164 acres scattered through the three parishes of Dunstable, Houghton Regis and Caddington.
In the 1920s the eastern end of the house was re-roofed, with a gable end facing Church Street, which altered the appearance of the facade. In the 1930s the house was divided into two dwellings, one part being Dr. Ashton's house, called Kingsbury Court, the other occupied for some time by Mr. Wallis, being re-named Old Palace Lodge. In 1959 this house was bought by Creasey Hotels and the following year, its refurbishment completed, it opened as the Old Palace Lodge Hotel.
In the same year a barn which formerly belonged to Kingsbury Farm, and was later Kingsbury Stables, was converted into the public house we know now as the Norman King.
On the wall outside is the following inscription "On the site of this inn and the adjoining ground, Henry I had a palace built where he regularly stayed from 1109, and which was known as Kingsbury." King Stephen entertained his nephew the future Henry II at Kingsbury in 1153 when he made him his heir. In 1204 King John gave the Palace to the Priory and from then on the royal family stayed at the Priory and his courtiers at the Palace. When the present inn was built, the local Totternhoe stone quarry had closed, so the stone was brought from a Norman castle and a cottage near Cambridge, with panelling from a medieval inn at Caxton in Cambridgeshire. Hence the birth of The Norman King (as shown below)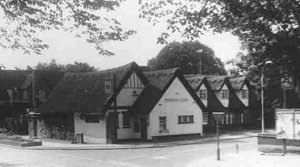 The Norman King
Photograph taken in 1985 by Omer Roucoux
---
Page last updated: 23rd January 2014